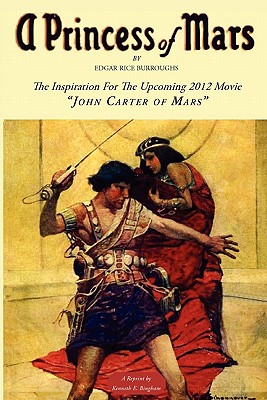 A Princess of Mars (Paperback)
Createspace Independent Publishing Platform, 9781461119753, 210pp.
Publication Date: May 5, 2011
Other Editions of This Title:
Paperback (11/4/2019)
Paperback, Icelandic (12/6/2018)
Paperback, Bosnian (11/26/2018)
Paperback (7/30/2008)
Paperback (9/8/2019)
Paperback (1/17/2020)
Paperback (8/12/2019)
Paperback (9/15/2019)
Paperback (9/21/2017)
Paperback (9/18/2019)
Paperback (3/18/2017)
Paperback (9/1/2004)
Paperback (5/16/2018)
Paperback (8/24/2007)
* Individual store prices may vary.
Description
A Princess of Mars, the inspiration for the upcoming 2012 movie "John Carter of Mars", is an Edgar Rice Burroughs science fiction novel, the first of his famous Barsoom series. It is also Burroughs' second novel, predating his Tarzan stories. "The Outlaw of Torn" was his first. Full of swordplay and daring feats, the story is considered a classic example of 20th century pulp fiction. It is a seminal example of the planetary romance genre, which became highly popular in the decades to follow, and also has some elements of Westerns. It is set on a dying Mars, informed by ideas popularized by astronomer Percival Lowell in the late 19th and early 20th centuries. It inspired a number of well known 20th century science fiction writers, including Ray Bradbury, John Norman and Arthur C. Clarke, and was also inspirational for many scientists in the fields of space exploration and the search of extraterrestrial life, including scientist Carl Sagan, who read the novel as a child. Story Summary; John Carter, a Confederate American Civil War veteran, goes prospecting in Arizona and, when set upon by Indians, is mysteriously transported to Mars, called "Barsoom" by its inhabitants. Carter finds that he has great strength on this planet, due to its lesser gravity. Carter soon falls in among the Tharks, a nomadic tribe of the planet's warlike, four-armed, green inhabitants. Thanks to his strength and combat abilities he rises in position in the tribe and earns the respect and eventually the friendship of Tars Tarkas, one of the Thark chiefs.