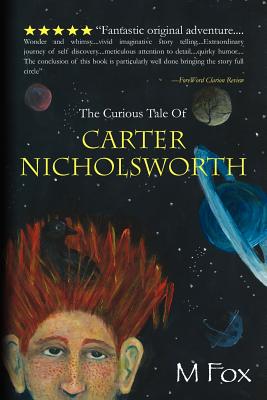 The Curious Tale of Carter Nicholsworth (Paperback)
Createspace Independent Publishing Platform, 9781461177111, 374pp.
Publication Date: November 2, 2011
* Individual store prices may vary.
Description
Carter is weird. I mean ... totally weird. If you don't believe me, just ask the kids at Lake Mohegan Junior High. Probably his ears that appeared to be growing at a rate several times faster than the rest of him, along with as many freckles on his face as stars in the sky, didn't help him any. Really big ears and tons of freckles however are simply not enough to officially qualify for the definition of "weird." -How about having a black bird named Nevermore making its home in the wild shock of hair that grew red from Carter's head?-Now that would do it. The fact that this little black bird could not speak never stopped Carter from talking endlessly to his only friend. He was convinced the bird communicated with him through thoughts wired directly into his mind. It was not unusual to see Carter deep in what appeared to be a one-way conversation with Nevermore. Like I said, Carter is weird. Because of his alienation, Carter Nicholsworth found himself a stranger gazing into a mirror that only reflected rejection. It was the legendary and mysterious forest of Wickedwood located behind his home that had always provided him sanctuary from the inconsistencies of an uncertain world ... but not this day. On a morning born as none before after waking from a terrifying dream, Carter and Nevermore unintentionally slip under an invisible fence that separates reality from fantasy. It is there, on the other side of here, where Carter begins a courageous adventure of self-discovery. Joining Serene and the Wiggwoggs, Carter embarks on a dangerous mission to recover and return a stolen sacred trust to its rightful guardian and heir, Elderwiser the ancient wizard of Wiggonwoggen. The Grinder and his loathsome army of Gootz, aren't about to let that happen. Woven throughout The Curious Tale Of Carter Nicholsworth, is an abundance of unusual characters who inhabit a fantastical world. The Big Ninni, King of The Minnininni and A. Croaker, the giant three-toed toad from the land of Wimzi are just two such characters eagerly awaiting the arrival of Carter. Profound lessons of friendship, trust, impermanence, and transformation pour from an overflowing cup of outrageous possibilities on this most peculiar journey that leads to the doorway of forever. ... And then there is the question about the one-way ticket to Aeiea and the odd message from the Chinese fortune cookie that read ... "Nightmares are a strange journey into chaos-have a nice trip." Sun Dragon Restaurant, Peekskill, NY
Fantasy- Advanced Preteen Reader/Teen And Up.