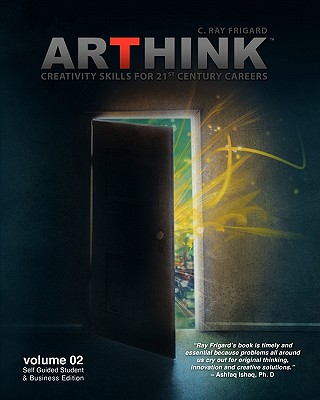 Arthink
Creativity Skills for 21st Century Careers
Paperback

* Individual store prices may vary.
Description
Arthink explores the creative process by guiding the reader through a variety of challenge scenarios while applying essential creativity skills used by artists, inventors and designers in their development of works of art, inventions and new product concepts. Previous art experience is not necessary. Individuals work at their personal level of artistic competency (even stick figures) where original thinking and idea communication is what matters.Clear objectives and challenge-statements involve the reader in the idea generation process by using simple everyday materials. This method would be beneficial for anyone interested in: Entrepreneurship, Leadership, Engineering, Invention, Education or any area that requires an innovative approach to challenges.A basic understanding of the creative process can be gained by simply reading through the book or to truly engage and draw out your own creativity use the materials listed to go through the various challenges.The author draws on over 40 years experience with leading design and research and development groups, as well as from being an inventor, sculptor, product designer and creativity educator.
Createspace Independent Publishing Platform, 9781461179818, 74pp.
Publication Date: May 29, 2011
About the Author
-Ray Frigard is an inventor, designer, sculptor, and creativity educator. As an inventor he is named on a diverse range of patents: Rollerblades, Trisailer Boats, Toys and Games and Cameras. He has licensed toy concepts with: Hasbro, Hoyle, Ohio Art, Remco, Lakeside Games and Maxim Enterprises. Most notable: Crossbows and Catapults, Legend of Camelot, and Fidgetz; winning creativity awards from: Parent's Choice Foundation, iParenting Media and Creative Child Magazine. -Ray has worked as a clay sculptor modeling full sized cars and recreational vehicles in the design studios of Ford, Chrysler, BMW and Polaris Industries. He also does commercial figure sculpting: Disney, Jim Henson, Jim Davis and McDonald's Happy Meals. -Ray is the artist-in-residence at Our Savior Lutheran School and is a member of NAEA, Creative Education Foundation and several Minnesota Art Associations. He exhibits art in juried shows, presents workshops at national conferences and teaches creative problem solving using the Arthink/Funthink methodology in schools and colleges in the Minneapolis area.