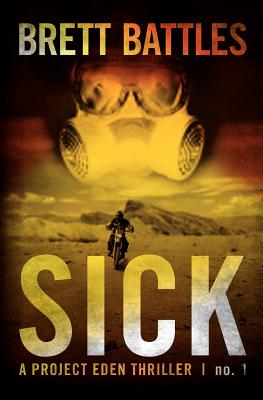 Sick
A Project Eden Thriller
Paperback

* Individual store prices may vary.
Other Editions of This Title:
Compact Disc (5/21/2013)
MP3 CD (9/1/2015)
MP3 CD (5/21/2013)
Compact Disc (5/21/2013)
MP3 CD (5/21/2013)
Description
For fans of Stephen King, Blake Crouch, and Michael Crichton comes a new, heart-pounding thriller by Brett Battles... Daniel Ash wakes after midnight to the cry of his daughter. Just a bad dream, he thinks. She's had them before. Yet he can't help but worry when she cries out again as he pads down the hallway. Stepping through her doorway, he expects to find her sitting up in bed, frightened by a nightmare. But the nightmare is his. It's real. And it's just beginning... Something is burning Ash's daughter alive. Something horrible that is spreading beyond the walls of their home, and taking no prisoners. Thirty seconds later, Ash will discover his daughter isn't the only one in his family infected, and as his world spins, coming apart at the seams, a team of armed men in biohazard suits bursts into his house. But these aren't the good guys. They haven't come to save Ash's family. They've come to separate them, to finish what they started. The problem is Ash refuses to disappear. He wants only one thing: to find those responsible. Because humanity is on the brink of execution. And man is pulling the trigger. WHAT OTHERS ARE SAYING ABOUT SICK: "Brett Battles is a master of the thriller genre. SICK not only grabs you by the throat, but by the heart and gut as well, and by the time you finish you feel as if you've just taken a runaway train through dangerous territory. Buy this book now. You won't regret it."-Robert Browne, author of THE PARADISE PROPHECY. "Like a fever, SICK makes you sweat and keeps you up all night, wondering what the hell is happening. It'll make your heart race like someone shot you with an EpiPen. You think Battles was badass before? He just cranked it up to 500 joules. CLEAR "-popculturenerd.com "SICK is Brett Battles at his best (which is saying a great deal), a thriller that also chills, with a secret at its core that's almost too scary to be contained within the covers of a book. As always, Battles juggles plot lines with the best of them, and his characters jump off the page. SICK deserves to be a best-seller."-Tim Hallinan, author of the Edgar nominated THE QUEEN OF PATPONG PRAISE FOR BRETT BATTLES' JONATHAN QUINN SERIES: "Brett Battles has established himself as one of today's best thriller writers, right up there with Lee Child, Barry Eisler, and Thomas Perry."-Deadly Pleasures magazine "The best word I can use to describe his writing is addictive."-James Rollins, author of the Sigma Force series "Quinn is one part James Bond, one part Jason Bourne."-Nashville Book Worm "I'm on the edge of my seat, awaiting future installments of Quinn's Adventures."-Jeffery Deaver, author of the Lincoln Rhyme's series "Battles has a true gift for writing thrillers..."-Crimespree magazine "The action is heart-pounding, gripping, and always engaging."-Tucson Citizen "Battles is a master storyteller."-Sheldon Siegel, author of PERFECT ALIBI.
Createspace Independent Publishing Platform, 9781461189268, 298pp.
Publication Date: March 17, 2012
About the Author
Brett Battles lives in Los Angeles and is the author of four novels in the acclaimed Jonathan Quinn series-including THE CLEANER (nominated for the Barry Award for Best Thriller 2008, and the Shamus Award for Best Debut Novel), THE DECEIVED (winner of the Barry Award for Best Thriller 2009), and the latest installment, THE SILENCED-and the first book in the Logan Harper series, LITTLE GIRL GONE. More info available at www.brettbattles.com