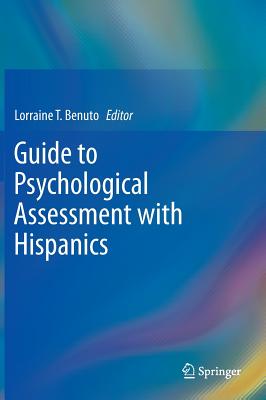 Guide to Psychological Assessment with Hispanics (Hardcover)
Springer, 9781461444114, 422pp.
Publication Date: September 19, 2012
Other Editions of This Title:
Paperback (8/23/2016)
* Individual store prices may vary.
Description
This book focuses on diversity, culture, and ethnicity as they relate to psychological assessment of Hispanics. It is a how-to guide for clinicians, researchers, and instructors working with Hispanic clients. Each chapter contains an overview of cultural considerations needed for assessing the Hispanic client followed by a specific exploration of the assessment measures available and the research that has been conducted on these measures with Hispanic participants. An exploration of the strengths and limitations of each assessment measure is included. Considering that ethnocultural minority individuals who are of Hispanic/Latino origin make up the largest ethnocultural minority group in the United States, guidelines for working with this population are a must. Given that a large subset of this percentage is composed of immigrants many of whom do not speak English or who have learned English as a second language, special considerations for effective psychological assessment are neccessary.This book fills a gap in the scientific literature by consolidating the research on psychological assessment with Hispanic samples into one comprehensive volume and providing simple recommendations for the psychological assessment of Hispanic clients. An exploration of the general psychological assessment domains (e.g., personality, intelligence) is included with references to research on the major assessment measures used in the field. A more specific exploration of psychodiagnostic assessment measures follows, including the assessment of mood disorders, anxiety disorders, sexual dysfunction, psychosis, etc. Several chapters are dedicated to specialized assessment, including neuropsychological assessment, forensic assessment, and school-based assessment, overall creating the most comprehensive, up-to-date, research-based compendium of psychological assessment measures for use with Hispanic clients.
About the Author
Lorraine T. Benuto received her doctoral degree in psychology from the University of Nevada, Las Vegas. She is a licensed clinical psychologist and she currently works at the University of Nevada, Reno as a clinical psychologist where she provides treatment to victims of sexual assault, sexual abuse, and child physical abuse. Dr. Benuto is also the associate director of the Nevada Caregiver Support Center where she works with individuals who have dementia and their families. Finally, Dr. Benuto chairs doctoral dissertations at Northcentral University. Dr. Benuto completed her APA-accredited internship at the VA in San Juan, Puerto Rico where she delivered psychological services to a culturally diverse clientele presenting with depression, anxiety, and dementia. Dr. Benuto has extensive experience delivering evidence-based treatments and conducting psychological assessments with the Latino population. She has delivered professional presentations at state, national, and international conferences on topics related to cultural competence and is co-editing Handbook of Adolescent Health Psychology, Guidelines to Psychological Assessment with African Americans, and Guidelines to Psychological Assessment with Asian Americans for Springer.