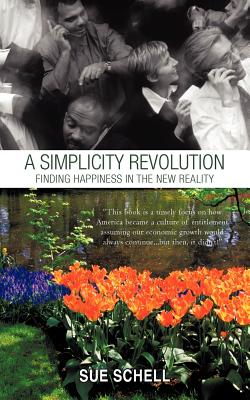 A Simplicity Revolution (Paperback)
Finding Happiness in the New Reality
iUniverse, 9781462023868, 212pp.
Publication Date: August 29, 2011
* Individual store prices may vary.
Description
Optimism had been a mainstay since the post-World War II days. Few of us expected the economic slowdown would be more than a pause. "A SIMPLICITY REVOLUTION: FINDING HAPPINESS IN THE NEW REALITY" is a commentary on America's Boom and Bust decade and the "Corporatocracy," that caused it.
The book is divided into chapters full of practical advice to assist readers on their personal lifestyle journeys. We now can see that America's desire to supersize everything was unsustainable.
What economists refer to as America's "New Normal," Author Sue Schell calls our "New Reality." She writes, "After millions of people lost their jobs and some ultimately their homes, we had heightened anxiety over the possibility that America's best days may be behind us? Would our American Dream survive for future generations? What was to become of the vanishing middle class?
Anthropology Professor Dr. Robert Launay, of Northwestern University, penned the forward to the book. He writes, "The challenges we are facing are new, and so the solutions and values we forge to meet them must also be new. Here, Sue Schell has hit the nail on the head."
A Simple life is not about frugality. It is about living an authentic life that lets you live the life that you dream of living. A life that is rooted not in the stuff you own, but in your relationships with family and friends. This may very well prove to be the silver lining we find in this Great Recession.