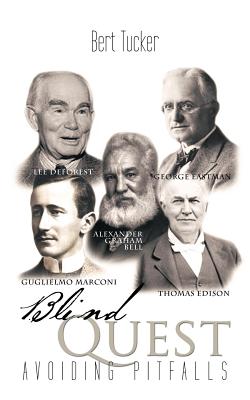 Blind Quest
Avoiding Pitfalls
Paperback

* Individual store prices may vary.
Other Editions of This Title:
Paperback (10/21/2010)
Description
This story quotes real historical references. Truth should not offend. For example, the author could easily read the Uncle Remus story in dialect from having learned that dialect as a child. The 20th century was beyond doubt the most globally threatening period of world history up to that time. Almost everything changed from the old comfortable ways. Avoiding Pitfalls continues the experiences of seven modern fictional characters as they meet real historical characters. Those historical figures continue to often speak their own words from their writings and speeches thus keeping their story close to their real history. The story takes General Charles Anderson, MD Emily Cromwell and Dr. John White into the deep South encountering Booker T. Washington (Up From Slavery including incidents from his early life as a slave) and Joel Chandler Harris (Uncle Remus' actual slave folk tales). Anderson then moves on to meet his ancestral relatives in a Louisiana village. A pilot project develops modern sanitation and a rural electrification program with futuristic (1915) dynamos from General Electric. Dr. Cromwell moves on to work with San Francisco leaders preparing for the most devastating natural disaster of the century, the San Francisco earthquake of 1906 (includes excerpt from PBS documentary). Ultimately the moderns travel to Europe where Anderson meets Tsar Nicholas and the emerging Russian revolutionaries, including Lenin. Anderson then goes on to the Sanssouci Palace at Potsdam for a summit meeting of royal European leaders to confront the malignant forces bringing Europe to the brink of World War I.
iUniverse, 9781462035625, 312pp.
Publication Date: July 26, 2011