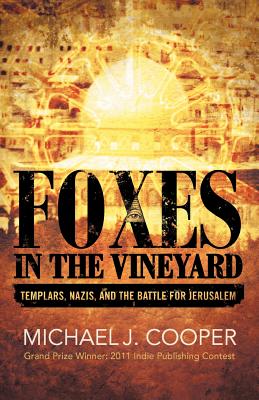 Foxes in the Vineyard: Templars, Nazis, and the Battle for Jerusalem (Paperback)
Templars, Nazis, and the Battle for Jerusalem
iUniverse, 9781462063086, 296pp.
Publication Date: December 1, 2011
Description
On one level, Foxes in the Vineyard is a historical fiction/thriller laced with action, Jewish mysticism, and romance. The novel tells of history professor, Evan Sinclair, who learns that his father has disappeared while on a dig in Jerusalem during the spring of 1948. Evan returns to Palestine on the eve of the first Arab-Israel war to search for his missing father.

He finds his father, and far more; a love he thought he had lost, and covert elements of the Third Reich—Waffen SS from North Africa, and Gestapo fugitives from the ruins of Berlin. The Nazis use counter-intelligence and terror to stoke the fires of hatred and fear, driving the Jews and Arabs to war and driving the British from Palestine. Their ultimate goal is to seize Jerusalem as the new capital of a reborn Third Reich.

On another level, the Nazis serve as metaphor for religious fanaticism, ultra-nationalism, and militarism—a toxic mixture that continues to infect the Middle East conflict.


Praise For Foxes in the Vineyard: Templars, Nazis, and the Battle for Jerusalem…
"… a tour de force, Cooper has created a composition of Jerusalem—contemporary and historical, earthly and celestial—all brought together with an intricate plot that leaves the reader guessing to the last minute. A winner." --E. Meroz – Jerusalem, Mvaseret Tzion



"The tale is replete with love, war, wit and wisdom…filled with a striking mix of historical fact and pure, simple fantasy." --Maayan Jaffe, Baltimore Jewish Times

"Cooper sets a thriller in the world's most coveted city…with action worthy of the tumultuous time period it depicts." --Jewish Toronto Magazine

"Imagine a novel in which you find Mozart and Nazis, hidden treasure, Knights Templar, lost loves, metaphysics and a little quantum physics…a rich, complex and erudite story." --Sasha Paulsen, Napa Valley Register


Advertisement