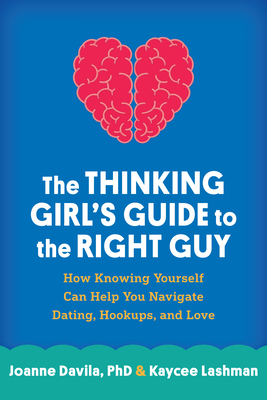 The Thinking Girl's Guide to the Right Guy (Paperback)
How Knowing Yourself Can Help You Navigate Dating, Hookups, and Love
The Guilford Press, 9781462516957, 322pp.
Publication Date: February 14, 2016
Other Editions of This Title:
Hardcover (2/13/2016)
* Individual store prices may vary.
Description
Love--like life--is full of choices. But choices can be complicated. Do you want to settle down and get married? Do you want to maintain your independent lifestyle, yet still have a partner? Are you looking for a friend with benefits? According to relationship experts Joanne Davila and Kaycee Lashman, the key to finding the right guy for you is shifting the focus to you. This empowering guide offers evidence-based strategies and practical tools to help you figure out what you need to be happy and fulfilled--and whether he has what it takes. Vivid, realistic stories of women in their 20s illustrate how to approach dating with self-confidence, navigate conflict with communication and understanding, and recognize the red flags of unhealthy relationships. An exciting, caring, and respectful partnership is possible--build the skills to make it happen. 
About the Author
Joanne Davila, PhD, is Professor of Psychology at Stony Brook University, a clinical psychologist in private practice, and an internationally known expert on young women's romantic relationships. She lives in Stony Brook, New York, with her partner.

Kaycee Lashman is an organizational change specialist who focuses on relationship dynamics within companies. Married with two children, she lives in Vancouver, Canada. 
Praise For The Thinking Girl's Guide to the Right Guy: How Knowing Yourself Can Help You Navigate Dating, Hookups, and Love…
"This book puts women in the driver's seat on the bumpy road to the right man."--Wendy L. Walsh, PhD, author of The 30-Day Love Detox

"Finally, a book for intelligent women who are serious about finding a healthy relationship, not just a warm body. Too many beautiful and successful women get stuck in bad relationships, but with honesty, open-mindedness, and willingness, that can change. In so many of the stories in the book, I felt like I was reading about my own life. You will, too."--Alex Redcay, LSW, psychotherapist, Highland Park, New Jersey

"Unlike many self-help books, this one doesn't present formulas for 'catching' a guy. Instead, it helps you tune into your own feelings, plans, and desires. It is full of important advice about the steps to take in building a healthy relationship."--Lisa Aronson Fontes, PhD, author of Invisible Chains

"A thoughtful, engaging, and evidence-based book that combines insightful analysis with practical suggestions and tools. Rich in examples, this is an easy and enjoyable read."--Andrew Christensen, PhD, coauthor of Reconcilable Differences

"I really identified with the women in this book and how they approached different dilemmas. Reading it helped me put specific events in my life into perspective and reevaluate my reactions. If you want to understand yourself and your relationships better, I highly recommend this book!"--Nadia B., Florida

"As a 20-something who's been single forever, this book couldn't have come at a better time for me. I feel like I can reenter the dating scene with more understanding of what I'm looking for. If my girlfriends read this book instead of the glossy magazine gurus, we would have stronger, more confident women who took better care of themselves in relationships. A lightbulb went off when I stopped and analyzed my Key Needs List--this is a tool every woman should use!"--Nicole S., California