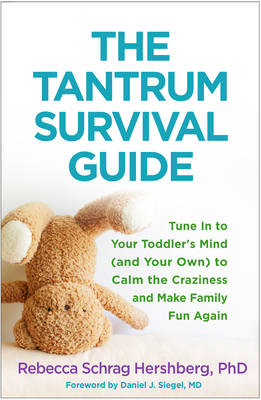 The Tantrum Survival Guide
Tune In to Your Toddler's Mind (and Your Own) to Calm the Craziness and Make Family Fun Again
Paperback

* Individual store prices may vary.
Other Editions of This Title:
Compact Disc (6/25/2019)
MP3 CD (6/25/2019)
Hardcover (10/12/2018)
Description
If you are the parent of a toddler or preschooler, chances are you know a thing or two about tantrums. While those epic meltdowns can certainly be part of "normal" toddler behavior, they are still maddening, stressful, and exhausting--for everyone involved. What can you do to keep your cool and help your child calm down? Rebecca Schrag Hershberg, child psychologist and mother of two, has a unique understanding of both the science behind tantrums and what works in the heat of the moment to nip blowups in the bud. With her customizable plan, you'll learn:

*Why your toddler's developing brain is hardwired for "big emotions."
*What you may be doing (unintentionally) to encourage outbursts.
*Ways to use structure and routines to help your child feel secure.
*How to reduce tantrums at tough times of day, from wake-up to bedtime.
*Strategies for managing tantrums under difficult circumstances, from travel to moving to divorce.
*Ways to deepen your parent–child connection--starting right now.

A Greater Good Favorite Parenting Book of 2018
Praise For The Tantrum Survival Guide: Tune In to Your Toddler's Mind (and Your Own) to Calm the Craziness and Make Family Fun Again…
"Imagine a guide that can offer you an accessible, scientifically sound foundation for understanding your young child's tantrums and then provide you accessible, practical, and effective ways to help connect with your child through the moments of meltdowns and tirades....The wonderful creator of this smart book is not only a brilliant translator of the science of good relationships and the brain, but also an astute, humble, and hilarious observer of human nature….Enjoy the journey ahead!"--from the Foreword by Daniel J. Siegel, MD, coauthor of No-Drama Discipline

"What a wonderful book! Dr. Hershberg writes with wisdom and humor about the experience of both child and parent as each of you struggles with the huge feelings unleashed in a tantrum. Her 'L words'--love and limits--are a timeless guide for those confusing moments when you feel torn about what to do next. Every parent of a toddler should read this book!"--Alicia F. Lieberman, PhD, author of The Emotional Life of the Toddler

"Dr. Hershberg comes across like the smartest, most thoughtful of my 'mom friends'--and a funny one, too. She doesn't shy away from digging deep into the outsized emotions of little kids. I feel like a psychological supermom now, ready to handle anything my four- and two-year-olds throw my way!"--Ali M., Dobbs Ferry, New York

"This is the toddler decoding manual you've been waiting for! As the mother of a three-year-old and a 20-month-old, I deal with a double dose of tantrums on a daily basis. This book has been a lifesaver in terms of how to understand the root causes and triggers of my kids' tantrums, how to process my own emotions during them, and how to handle (and even prevent) tantrums in the future. Dr. Hershberg somehow makes you feel listened to and validated simply through reading her words."--Sumana W., Los Angeles

"As a father of two, I found this to be an invaluable tool for living in the trenches with young kids. With warmth and humor, Dr. Hershberg assures you that you are not alone and describes strategies that work."--Chris D., Chatham, New Jersey

"Dr. Hershberg gives parents the ultimate gift of how to survive (and even prevent) tantrums. Her perspective as both a child psychologist and mother is refreshing and easy to relate to. She takes you right into the eye of the storm to help you understand what is going on in your toddler's mind. A 'must read' for all moms and dads--keep this book in your parenting tool box."--Deena Blanchard, MD, MPH, pediatrician, New York City

"Witty and authentic--an invaluable resource for dealing with meltdowns, especially at inopportune times and places. Unlike most parenting books, this one is painfully realistic. Dr. Hershberg shares her own struggles to manage her toddlers' behavior, despite her considerable expertise as a child psychologist."--Joan L. Luby, MD, Director, Early Emotional Development Program, Washington University School of Medicine in St. Louis

"This wonderful book touches all the right themes as it asks parents to have compassion for their child's inner world, even when tantrums make them want to run screaming from the room. It also reveals the necessity of having compassion for yourself as you keep loving your child and remain in the room--and does all of this while making the reader laugh out loud. This is a helpful and practical resource that I will recommend to beleaguered parents of toddlers."--Kent Hoffman, RelD, Circle of Security International, Spokane, Washington

"Offering long-term strategies (think "L" for love and limits), Hershberg conveys the importance of a home filled with both warmth and boundaries….Including proactive and preventative approaches, Hershberg's comprehensive manual…will prove valuable to the multitude of parents looking to bring calm to their household."
— Library Journal Xpress
The Guilford Press, 9781462529711, 250pp.
Publication Date: October 12, 2018
About the Author
Rebecca Schrag Hershberg, PhD, is a clinical psychologist and founder of Little House Calls Psychological Services, which specializes in helping kids and parents confronting a range of common early childhood challenges. Dr. Hershberg has held leadership positions at a national nonprofit organization serving children and a hospital-based infant and toddler preventive mental health program. She has taught in the Department of Pediatrics at the Albert Einstein College of Medicine and has presented numerous seminars and workshops for parents. She lives in the New York City area with her husband and two young sons.