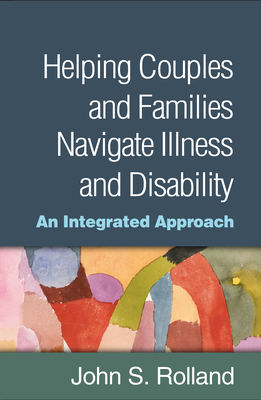 Helping Couples and Families Navigate Illness and Disability (Hardcover)
An Integrated Approach
The Guilford Press, 9781462534951, 400pp.
Publication Date: May 16, 2018
* Individual store prices may vary.
Description
Couples and families face daunting challenges as they cope with serious illness and disability. This book gives clinicians a roadmap for helping affected individuals and their loved ones live well with a wide range of child, adult, and later-life conditions. John S. Rolland describes ways to intervene with emerging challenges over the course of long-term or life-threatening disorders. Using vivid case examples, he illustrates how clinicians can help families harness their strengths for positive adaptation and relational growth. Rolland's integrated systemic approach is useful for preventive screening, consultations, brief counseling, more intensive therapy, and multifamily groups, across health care settings and disciplines. This book significantly advances the clinical utility of Rolland's earlier landmark volume, Families, Illness, and Disability.
About the Author
John S. Rolland, MD, MPH, is Professor of Psychiatry and Behavioral Sciences at Northwestern University Feinberg School of Medicine. He is also Co-Founder and Executive Co-Director of the Chicago Center for Family Health and Director of its Families, Illness, and Collaborative Healthcare Program. Internationally recognized for his integrated conceptual model, clinical work, and research on couple and family psychosocial challenges with serious health conditions, Dr. Rolland is coeditor of Individuals, Families, and the New Era of Genetics. He is past president of the American Family Therapy Academy (AFTA); Distinguished Life Fellow of the American Psychiatric Association; Senior Fellow of the Group for the Advancement of Psychiatry, Family Committee; past board member of the Collaborative Family Healthcare Association; and former Fellow of the Yale University Institute for Social and Policy Studies. Dr. Rolland is a recipient of the Innovative Contributions to Family Therapy Award from AFTA and the Blanche F. Ittleson Award from the American Orthopsychiatric Association (now the Global Alliance for Behavioral Health and Social Justice). He is an active speaker and consultant on family-oriented systemic approaches to illness and disability challenges.
Praise For Helping Couples and Families Navigate Illness and Disability: An Integrated Approach…
"This book is a treasure. Rolland has put a career's worth of insight, wisdom, craft, and humanity into every chapter. All clinicians who work with couples and families will benefit immensely from reading this important, up-to-date work."--William J. Doherty, PhD, Department of Family Social Science, University of Minnesota

"Rolland understands fully that illness and disability are experiences located not only in an individual but in couples and families as well. This extremely helpful book provides a conceptual framework that can be used to support and treat people facing a range of health conditions, including newer concerns in the realm of genetics and neurocognitive disorders. Rolland's descriptions of how illness can skew a couple's relationship, and how to work to rebalance that relationship, are invaluable. Want to learn how developmental issues, family history, illness beliefs, and communication styles can be used to promote resilience for the patient and family in the face of a serious health challenge or disability? Read this book! I will assign it in my classes for our Medical Family Therapy postdoctoral fellows, and for our continuing education program on Integrated Care."--Susan H. McDaniel, PhD, Dr. Laurie Sands Distinguished Professor of Families and Health, and Director, Institute for the Family, University of Rochester Medical Center

"Rolland is a psychiatrist and family therapist who brings decades of experience with the unique challenges of diagnosis and treatment of a wide variety of serious medical problems--and the resulting relational, emotional, behavioral, and financial problems that may emerge for patients and family members. His comprehensive resilience-based and prevention-oriented Family Systems Illness model provides essential strategies for understanding and helping patients of all ages and their families who are struggling with chronic illness. Including case vignettes and clinical guidelines, this book is 'must' reading for health and mental health students and clinicians, including physicians, psychologists, social workers, family therapists, and nurses."--Mina K. Dulcan, MD, Professor of Psychiatry and Pediatrics, Northwestern University Feinberg School of Medicine; Department of Child and Adolescent Psychiatry, Ann and Robert H. Lurie Children's Hospital of Chicago

"This extraordinary book is a 'must read' for family nursing and family health scholars and clinicians who envision a culture change in health care where systemic family-oriented assessment and interventions are offered as standard care for all. Current research and detailed clinical practice exemplars across the life cycle are skillfully showcased with a compelling emphasis on the beliefs of the individual, family, and health care provider, as well as the larger systems within which they are embedded. Rolland's decades of seasoned clinical wisdom, his personal illness experiences, and his interdisciplinary respect make this book sparkle."--Janice M. Bell, RN, PhD, Associate Professor of Nursing (Emerita), University of Calgary, Canada; Founding Editor, Journal of Family Nursing

"To read this excellent book is to sit beside a master therapist as he thinks, reflects, and practices in a biopsychosocial, systemic way. Rolland writes simply and clearly about the complexities of families coping with a variety of chronic illnesses, reminding us that 'normative' encompasses a wide range of emotions, beliefs, and interactions. Building on his earlier work, Rolland provides practical strategies to engage families and include them as integral members of the health care team. Case examples model respectful conversations with patients and their family members during some of the most frightening and vulnerable moments of their lives. Clinicians at all levels of experience will find something useful and immediately applicable."--Todd M. Edwards, PhD, LMFT, Professor and Director, Marital and Family Therapy Program, University of San Diego

"Rolland takes readers on a compelling journey into the lives of couples and families coping with serious and chronic illness. He grounds his work in the empirical literature and in his extensive clinical experience. I recommend this book for clinical graduate school programs and medical residencies."--Cleveland G. Shields, PhD, Department of Human Development and Family Studies and Purdue Center for Cancer Research, Purdue University
"[Rolland's] voice comes through the pages with caring, empathy, understanding, and wisdom. Despite the scholarly nature of this book, the personal sharing and case examples breathe great humanity and compassion into the enormity of the caregiver struggle….I am a smarter clinician, better teacher, and more compassionate family caregiver having spent time learning from Dr. Rolland. As promised in the title, I am better prepared to navigate illness and caregiving with a decreased sense of isolation, and a deepened understanding of the essential importance of a systems perspective."
— Family Medicine
"This is an absolute necessary addition to the field of medical family therapy! Very well written, thorough, and extremely well researched, this book is a must in the practice of mental health professionals working in medical settings."
— Doody's Review Service
"This systemic and process approach will be appreciated by those working in the helping professions who are involved with children, couples, adults, families, and for those clients with later life conditions. Another particular benefit of this valuable book is that it would also be useful for families themselves who are supporting family members with illness and disability….Comprehensive and useful….As a social worker I am especially grateful for this author's application of the family systems conceptual framework, and for his use of the genogram in particular. Psychologists would find this book a useful resource for any scope of practice."
— Psychology Aotearoa