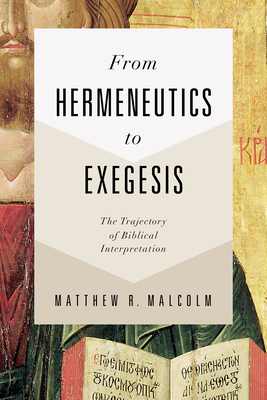 From Hermeneutics to Exegesis
The Trajectory of Biblical Interpretation
Paperback

* Individual store prices may vary.
Description
Interpreting the Bible requires theoretical discernment and practical know-how.

A book that focuses solely on interpretive methods or deals exclusively with the philosophical underpinnings of interpretation fails to provide a full picture of how to read and study Scripture. Beginning with hermeneutics, Matthew Malcolm surveys the history of the discipline, engages with important theological issues, and arrives at a memorable depiction of what happens when fruitful interpretation takes place. After covering these foundational elements, Malcom focuses on exegesis. He helps readers understand the issues at stake in interpreting biblical passages, and provides a straightforward guide to writing an exegesis paper.

Academically solid without being overwhelmingly detailed, this is a reliable guide to the important path from hermeneutics to exegesis. 
Praise For From Hermeneutics to Exegesis: The Trajectory of Biblical Interpretation…
"In this helpful volume, Matthew Malcolm moves with great facility between philosophical hermeneutics and the practice of exegesis. His attention in practice to interpretive location is a particularly welcomed contribution. I heartily recommend From Hermeneutics to Exegesis for any who want to take the next step in their exploration of biblical hermeneutics."
 
—Jeannine K. Brown, professor of New Testament and director of online programs, Bethel Seminary
 
"In books about biblical interpretation, it is easy to lose sight of the canonical and Christological forest for the weeds of steps, methods, and tools. From Hermeneutics to Exegesis is a welcome exception to this tendency in hermeneutics texts. Matthew Malcolm eruditely sets the tools of exegesis in the larger context of Scripture's Christological purpose, reminding us that reading the Bible is done in order to see Christ with his Church, by his Spirit. This book will help train the next generation of Christian ministers and interpreters to exegete God's Word carefully and theologically. I highly recommend it for use in the classroom and the church."
 
—Matthew Y. Emerson, Dickinson associate professor of religion, Oklahoma Baptist University
 
"Hermeneutics is not just a long term designed to confuse those interested in the Bible. As Mathew Malcolm clearly illustrates in this surprisingly complete introduction to hermeneutics, interpretation, and exegesis, hermeneutics is the essential beginning to understanding that culminates in acts of interpretation and then useful exegesis. Malcolm emphasizes the location of the text and of the reader and how they must enter into an essential dialogue with each other. As a result, Malcolm bridges the gap between general and special hermeneutics and arrives at an informed and workable approach to interpretation of the Bible. I recommend this book for its timeliness, currency, and helpfulness."
 
—Stanley E. Porter, president and dean, McMaster Divinity College, Canada
 
"I am delighted to commend this book without reserve. Matthew Malcolm combines academic expertise with exceptional down-to-earth common sense. He is equally competent in biblical studies, theology, and broader questions about interpretation. I am especially impressed by his thoughtful questions addressed to readers, which are stimulating, relevant and thought-provoking. He discusses many topics, including openness, expectation and multifaceted interpretation. We shall doubtless hear more of Malcolm as an able biblical scholar and theologian."
 
—Anthony Thiselton, emeritus professor of Christian Theology, University of Nottingham, U.K.
 
"This is a helpful proposal about how to reach understanding of the Bible that will stretch and perhaps transform the horizons of both biblical exegetes and theologians. Malcolm here retrieves the broader tradition of hermeneutics, which is less a matter of following particular steps or using particular methods than it is a study of what is happening when readers attain understanding. The result? A general hermeneutics with an important theological twist, in which located interpreters interview the biblical text as an "other" while inquiring into its distinct mission, namely, its witness to the God of the gospel and the gospel of God."
 
—Kevin J. Vanhoozer, research professor of systematic theology, Trinity Evangelical Divinity School
 
"Matthew Malcolm's new book on hermeneutics provides an accessible and informative contribution to a very complicated subject. Readers will learn much about the field of biblical interpretation, even when/if they disagree with Malcolm's analysis."
 
—Jarvis J. Williams, associate professor of New Testament interpretation, The Southern Baptist Theological Seminary 
 
"Matthew Malcolm offers the most lucid, engaging, theologically informed evangelical appropriation of the hermeneutical circle for biblical studies to date. Combining a history of interpretive approaches with practical exegetical examples, this book, written by an experienced New Testament scholar, shows anyone willing to look the way beyond the artificial conflict between theological and historical-critical models of reading the Bible that still cripples many evangelical seminaries today. This work should be in every seminary bookstore!"
 
—Jens Zimmermann, Canada Research Professor in Humanities, Trinity Western University, Canada
 
 
 
 
B&H Academic, 9781462743773, 192pp.
Publication Date: May 1, 2018
About the Author
Matthew R. Malcolm is Dean of the Faculty of Liberal Arts at Universitas Pelita Harapan, Indonesia.
or
Not Currently Available for Direct Purchase