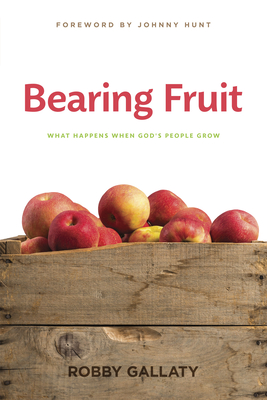 Bearing Fruit (Paperback)
What Happens When God's People Grow
B&H Books, 9781462743797, 144pp.
Publication Date: October 15, 2017
Other Editions of This Title:
Compact Disc (10/15/2017)
* Individual store prices may vary.
Description
Why are so many Christians stagnant in their faith? Why do we often live as though the gospel stops at the moment of conversion?
The good news of Jesus doesn't stop the moment we get saved. In fact, salvation is only the beginning of God's work in our lives. We often view salvation as the ending point; it's really the beginning point. The gospel of Jesus doesn't only justify us; it sanctifies us. When we receive the Holy Spirit at salvation, an incredible work begins to happen in us: we begin to bear fruit. When we are firmly planted in the gospel and committed to growing in Christ, He produces in us the fruits of the Spirit, the marks of a true Christian.
In Bearing Fruit, Robby Gallaty walks us through the life of the Christian. Biblical, intentional, and practical, Bearing Fruit points our hearts to the gracious God who called us, justified us, and is now sanctifying us by the work of his Holy Spirit.
About the Author
Robby Gallaty is the Senior Pastor of Long Hollow Baptist Church in Hendersonville, TN. He was radically saved out of a life of drug addiction on November 12, 2002. In 2008, he began Replicate Ministries to equip and train men and women to be disciples who make disciples. He is also the author of Creating An Atmosphere to Hear God Speak (2009), Unashamed: Taking a Radical Stand for Christ (2010), Growing Up: How to Be a Disciple Who Makes Disciples (2013), Firmly Planted: How to Cultivate a Faith Rooted in Christ (2015), Rediscovering Discipleship: Making Jesus' Final Words Our First Work (2015), MARCS of a Disciple (2016), and The Forgotten Jesus: Why Western Christians Should Follow an Eastern Rabbi (2017).