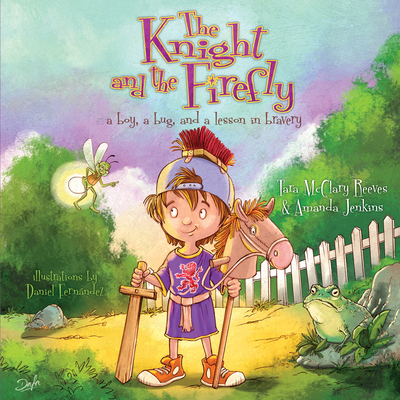 The Knight and the Firefly (Paperback)
a boy, a bug, and a lesson in bravery (Firefly Chronicles)
B&H Kids, 9781462745197, 32pp.
Publication Date: July 1, 2017
Other Editions of This Title:
Hardcover (2/1/2014)
* Individual store prices may vary.
Description
Oliver may be a brave and noble knight by day, but he is terrified of the dark by night—until a wise, old firefly helps him understand that God's Word is our light. In this Scripture adventure, kids join Oliver as he hides under an eagle's wings, is hoisted onto the shoulders of a strong angel, tramples poisonous snakes, and even rides on the back of a mighty lion. Through it all, Sir Oliver learns that God always protects His children and that we are never alone, even when it is dark outside.
Based on Psalm 91:1-2. 
About the Author
Amanda Jenkins is passionate about communicating biblical truths to kids in a way they can understand and connect with. Amanda lives just outside of Chicago with her husband, Dallas, and their four young children. She is also the daughter-in-law of Jerry B. Jenkins, author of the best-selling Left Behind series.



Tara McClary Reeves will tell you the two greatest decisions in her life were declaring "I do" to Jesus Christ and, 23 years later, announcing "I do" to Lee Reeves at her South Carolina wedding. Tara is the author of Don't Tell That to Beasley (WaterBrook Press 2005) and one of her joys and privileges as a parent is daily pointing her children to Jesus. She is thrilled Amanda Jenkins agreed to join her on The Knight and the Firefly and is prayerful their collaboration will equip parents and children to focus and depend upon the Lord. Tara and her husband, Lee, live in Davidson, North Carolina with their 12-year-old twins, Caroline and Daniel, and 9-month-old "bonus baby," Harrison.

 
Daniel Fernández was born in Santiago de Chile, and has lived in Germany since the age of five. He has worked as Creative Director, Art Director, illustrator, designer, Head of Art and worked for many advertising agencies and Publishing Editorials in Chile, The United States, Germany, Denmark and Italy. He has published over 30 titles. He has won awards for creativity and art direction: Cannes, New york Festivals, Big Amauta, International Echo Awards Grand prix, Big Idea Ogilvy, Gráfica el Mercurio, Effie Awards, Fiap.
Praise For The Knight and the Firefly: a boy, a bug, and a lesson in bravery (Firefly Chronicles)…
"The Knight and the Firefly is a creative and delightfully inspirational tale your children will ask for again and again. I enjoyed it so much, I wish I'd written it!" – Jerry B. Jenkins, Novelist
 
"With eight grandchildren, Pat and I are always looking for a great book we can all enjoy. The Knight and the Firefly is something we look forward to sharing with our family for years to come." – Joe Gibbs, NFL Hall of Fame coach and NASCAR team owner 
 
"The Knight and the Firefly will soon become a children's classic. Just watch their eyes light up with awe and wonder as they read this book over and over." –Pat Williams, Orlando Magic senior vice president and co-author of Extreme Focus: Harnessing the Life-Changing Power to Achieve Your Dreams (HCI 2011)