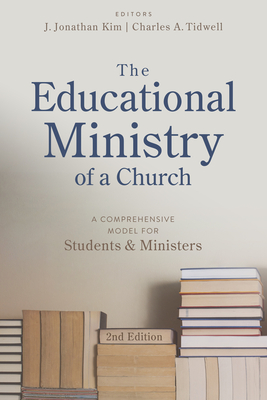 The Educational Ministry of a Church, Second Edition
A Comprehensive Model for Students and Ministers
Paperback

* Individual store prices may vary.
Description
The Educational Ministry of the Church, 2nd Edition is a treasure-trove of resources for those involved in Christian education within the context of the local church. This second edition, edited by J. Jonathan Kim, updates Charles A. Tidwell's milestone contribution to the field of Christian education, summarizing changes in the field since its last edit in 1996 and introducing the next generation of church leaders to various methods of educational administration.
Praise For The Educational Ministry of a Church, Second Edition: A Comprehensive Model for Students and Ministers…
"All of us who lead and serve today are standing on the shoulders of professors like Dr. Charles Tidwell, Dr. Alva Parks, and Dr. Jim Williams. Jonathan Kim is to be commended for utilizing this strong foundation and building upon it to create this excellent volume which will be of great benefit to both university and seminary students as well as church educational leaders. The writers of the various chapters are widely respected as leaders in church educational ministry. My prayer is that the Lord will use this book mightily to equip the church leaders to effectively share the good news with the world that is in desperate need of Jesus." 
—Gary Cook, chancellor, Dallas Baptist University
 
"Congratulations are in order for Jonathan Kim and the multiple contributors to this fine volume for their excellent reshaping and timely updating of Charles Tidwell's well-known work on the ministry of Christian education. Providing a comprehensive overview of the various facets of the work of Christian education and leadership, Kim's revision offers informative and helpful guidance for students, educators, and practitioners. The Educational Ministry of a Church will serve as a valuable tool to strengthen church ministries and programs while providing enablement for those who lead and serve in these key areas. It is a privilege to recommend this thoughtful and well-designed resource."
—David S. Dockery, theologian-in-residence, Southwestern Baptist Theological Seminary, and president, International Alliance for Christian Education
 
"It is exciting to see a new generation of Christian educators helping the church to disciple believers. Building off the contributions of Charles Tidwell, the writers bring fresh practical application of time-tested principles. Every church leader charged with helping others grow spiritually will want to avail themselves of this valuable resource."
—Daryl Eldridge, president and cofounder, Rockbridge Seminary
 
"There are many vital ministries of a local church to be sure, among them is preaching, worship, fellowship, etc. However, the teaching of God's Word in and through the local church setting cannot be emphasized enough. Thank you to Jonathan Kim for compiling such a splendid review and challenge to church educators. The disciple of Jesus Christ has been instructed, in Matthew 28, to 'teach' and this book is a positive step in continuing this biblical priority."
—David Hardage, executive director, Baptist General Convention of Texas
 
"I am excited to see the kingdom impact of this book. Now, more than ever, the need for a strong educational ministry in our churches is paramount. I have the upmost respect for Dr. Kim and Dr. Tidwell and their commitment to preparing God's people to serve his children." 
—Cory Hines, president, Howard Payne University
 
"The decline of educational ministry programs in local churches parallels the rise of biblical illiteracy among Christians. This must be reversed! This outstanding guidebook charts a path forward. The church must reclaim its role as providing comprehensive biblical and ministerial training for believers. As a seminary leader, it is my conviction the church is still the primary teaching site facilitating Christian discipleship. This book is an important tool to help church leaders fulfill this part of their mission."
—Jeff Iorg, president, Gateway Seminary

"This second edition of The Educational Ministry of the Church covers a broad scope of relevant topics, offering helpful biblical perspectives and practical guidance for both new and veteran church leaders. Following the original 4-part outline developed by Charles Tidwell in the 1986 and 1996 editions, a team of thirteen experienced Southern Baptist professor/pastors guide readers through foundational matters (1: Necessity), a range of educational ministries (2: Basic Components), a focus on the people component of ministry (3: Leadership Personnel), and finally a focus on the task component (4: How Leaders Lead). I appreciated the emphasis on biblical teaching throughout the volume, and the hands-on wisdom resulting from the authors' years of personal educational ministry engagement."
—Klaus Issler, professor of educational studies, Talbot School of Theology, Biola University
 
 "As a local church pastor, I give many thanks to Jonathan Kim for bringing such a strong and insightful team of Christian educators together in this volume. Education and nurturing is one of the most essential functions of a church, which has been quite neglected in the most recent decades. As a result, biblical illiteracy is rampant and discipleship has suffered greatly. I hope and pray The Educational Ministry of a Church will be used in a mighty way by God to motivate many church leaders to re-focus on Christian education."
—Robert Jeffress, senior pastor, First Baptist Church, Dallas, Texas
 
"I am grateful that The Educational Ministry of a Church is being printed in a second edition. It will be a very helpful tool to be used by teachers and students. I used the first edition as a text book while teaching at Southwestern Baptist Theological Seminary and at Dallas Baptist University. Jonathan Kim is to be congratulated for working with Dr. Charles Tidwell, who is an outstanding educator, to make this edition available to students and educators."
—Alva G. Parks, former executive vice president, Dallas Baptist University
 
"Jonathan Kim, et al. have launched an urgent clarion call to Baptist churches with their much needed, and long awaited, revised edition of TheEducational Ministry of the Church. It is an appeal to re-energize and revitalize an educational ministry focused on addressing the urgent needs of a postmodern world through all the functions of the church that are resident in Jesus's mandate to 'teach everything that I have commanded you.' Without abandoning the traditional educational programs that already address these functions, they advocate an ever-expanding environment in the community of faith that will intensify not only the making of 'disciples' but also the making of 'disciple-makers.'"
—Budd Smith, distinguished senior fellow, B. H. Carroll Theological Institute
 
"As the church seeks to be a relevant voice within twenty-first century culture, this timely volume reiterates the importance of an educated laity. As biblical illiteracy rates increase, the need for an informed laity is severe. The call for deliberate efforts of the church is welcomed."
—Eric A. Turner, president, Southwest Baptist University
 
 
 
B&H Academic, 9781462745609, 336pp.
Publication Date: July 1, 2020
About the Author
J. Jonathan Kim is associate dean of the College of Christian Faith and professor of Christian education at Dallas Baptist University.