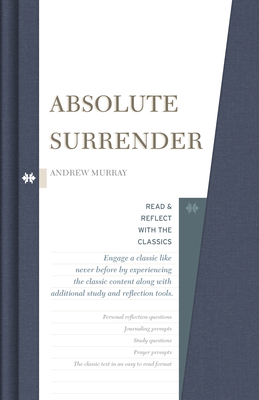 Absolute Surrender (Read and Reflect with the Classics) (Hardcover)
B&H Books, 9781462747634, 160pp.
Publication Date: June 1, 2017
Other Editions of This Title:
Paperback (4/11/2016)
Paperback (8/7/2017)
Paperback (10/7/2014)
Paperback (6/24/2015)
Paperback (10/24/2014)
Paperback (1/8/2015)
Paperback (10/24/2017)
Paperback (9/19/2017)
Paperback (7/28/2016)
Paperback (8/1/2017)
Paperback (12/11/2013)
Paperback (2/19/2015)
Paperback (7/1/2017)
* Individual store prices may vary.
Description
"Our God delights in helping us. He will enable us to perfect, not in the flesh, but in the Spirit, what was begun in the Spirit."

Absolute Surrender develops an understanding of the need for "absolute surrender" to God. Murray provides concrete steps for bringing about such surrender in one's life. He also describes both the fruit of surrendering, e.g. true experience of the Holy Spirit in one's life, and the different "stages" one goes through on the "path to Christian liberty." Anyone not fully experiencing Christian liberty will be enriched by Absolute Surrender.

The Read & Reflect with the Classics edition of Absolute Surrender includes the classic text in an easy to read adaption coupled with personal reflection questions, additional study questions, and prayer prompts for today's Christian reader.
About the Author
Andrew Murray (1828–1917) was a South African writer, teacher, and Christian pastor. Andrew pastored churches in Bloemfontein, Worcester, Cape Town, and Wellington, all in South Africa. He was a champion of the South African Revival of 1860. He died on January 18, 1917, four months before his eighty-ninth birthday. Over the years he has influenced many, including Jessie Penn-Lewis, a key figure in the 1904-1905 Welsh Revival.