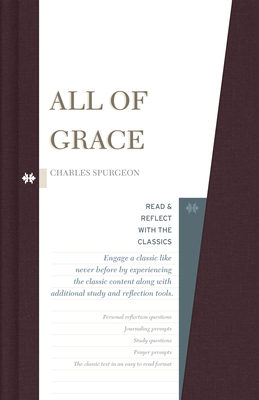 All of Grace (Read and Reflect with the Classics) (Hardcover)
B&H Books, 9781462747665, 184pp.
Publication Date: June 1, 2017
Other Editions of This Title:
Paperback (4/4/2012)
Paperback (2/24/2017)
* Individual store prices may vary.
Description
"It is not the object of this book to ask anything of you, but to tell you that salvation is ALL OF GRACE, which means, free, gratis, for nothing."
All of Grace is a simple and eloquent presentation of basic salvation through grace alone. Spurgeon wants readers only to consume his work and ponder it, he asks nothing in return because he believes in the power of God to bring unbelievers to Him. This classic text brought into contemporary English is both a perfect introduction to salvation and an assurance of it for unbelievers and the saved alike. In the last line, Spurgeon beseeches readers to accept salvation now and "Meet me in heaven."
The Read & Reflect with the Classics edition of All of Grace includes the classic text in an easy to read adaption coupled with personal reflection questions, additional study questions, and prayer prompts for today's Christian reader.
About the Author
By the age of twenty-one C.H. Spurgeon was the most popular preacher in London. He preached to crowds of ten thousand at Exeter Hall and the Surrey Music Hall. When the Metropolitan Tabernacle was built, thousands gathered every Sunday for over forty years to hear his lively sermons.
In addition to his regular pastoral duties, he founded Sunday schools, churches, an orphanage, and the Pastor's College. He edited a monthly church magazine and promoted literature distribution. Sincerely and straightforwardly he denounced error both in the Church of England and among his own Baptists.