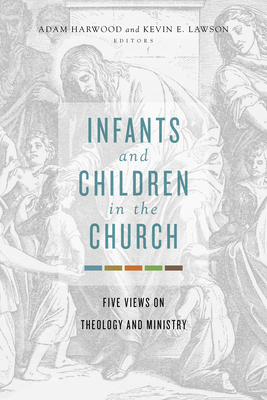 Infants and Children in the Church
Five Views on Theology and Ministry
Paperback

* Individual store prices may vary.
Description
A congregation rejoices when a new child is added to its midst, yet the church often wrestles—in both theology and practice—with how to best receive and minister to infants and children entrusted to her care.

Frequent questions arise like:
> How are infants and children impacted by sin?
> How does God treat people who die in their infancy or childhood?
> When and how are children considered members of the church?
> When and how are children instructed in Christian doctrine?
 
Infants and Children in the Church addresses these critical and sensitive questions from a variety of rich traditions, including Eastern Orthodox, Roman Catholic, Lutheran, Reformed, and Baptist, so that Christians can make the most of every opportunity as they minister to children.
Praise For Infants and Children in the Church: Five Views on Theology and Ministry…
"I have been looking for a book such as this for two decades—a book that drills deep into the interlinking theological issues of sin and guilt, the status of children before God, and infant baptism (and believers' baptism)—and how beliefs on such complex issues impact how we receive and welcome children in our faith communities. . . . We have much to learn from each other's stories; this text provides an excellent means for beginning that journey."
—Holly Allen, professor of family studies and Christian ministries, Lipscomb University
 
 
"This book represents an example of what can be done in new ecumenical exchanges that reflect a true dialogue. What better place to focus than children and their place in the life of the church?"
 —Archpriest Chad Hatfield, president, St. Vladimir's Orthodox Theological Seminary
 
 
"In an age that trumpets abortion as a fundamental right, this book reminds us that whatever their differences otherwise, the faithful recognize children as God's creation and the object of his love in Jesus Christ, and in the church, they should be treated as such."
—Cameron A. MacKenzie, Forest E. and Frances H. Ellis Professor of Historical Theology, Concordia Theological Seminary
 
 
"I highly recommend this book, and hope it is the beginning of long reflection of what it means for the church to be child-like in our dependence and child-friendly in our mission."
—Russell Moore, president, The Ethics and Religious Liberty Commission of the Southern Baptist Convention
 
 
B&H Academic, 9781462751105, 232pp.
Publication Date: November 15, 2017