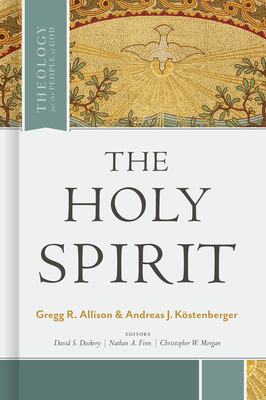 The Holy Spirit (Theology for the People of God)
Hardcover

* Individual store prices may vary.
Description
This book studies the Holy Spirit through the lens of both biblical and systematic theology. It provides a comprehensive look at the third person of the Trinity as revealed by Scripture, focusing on eight central themes and assumptions. 
Praise For The Holy Spirit (Theology for the People of God)…
"I welcome Gregg Allison and Andreas Köstenberger's new book on the Holy Spirit with great interest and excitement. It is grounded deeply in the burgeoning scholarly literature on the Spirit but written in a very accessible way for Bible teachers and preachers. And because it is comprehensive, it will provide a wonderful, often-used reference source for teaching this central truth of the faith. This book belongs on your shelf containing the study tools that you reach for regularly."
 —Leonard Allen, dean, College of Bible & Ministry, Lipscomb University
 
"This is a remarkable study, providing both a synoptic overview of biblical and theological approaches to the Holy Spirit, and a much-needed, fresh integration of the two. This should be a go-to book for anyone working on pneumatological issues or wanting to explore how the theology of the Holy Spirit is woven together with a range of key themes both in Scripture and in the life of the Church. I heartily recommend it."
 —Gary D. Badcock, Peache Professor of Divinity, Huron at Western University
 
 "The Holy Spirit by Gregg Allison and Andreas Köstenberger is a vital new resource for a biblical and theological approach to the third person of the Godhead. Careful biblical analysis grounds systematic synthesis in a robust treatment of the Spirit that combines scholarly vigor with conceptual and expressive clarity. This volume will richly benefit any student or scholar of the person and work of the Holy Spirit. Highly recommended!"
 —Constantine R. Campbell, senior vice president of Global Content and Bible Teaching, Our Daily Bread Ministries, and former professor of New Testament, Trinity Evangelical Divinity School
 
"This is a significant book. Köstenberger and Allison combine to present the reader with both a biblical and theological treatment of the doctrine of the Holy Spirit. They do so with great aplomb: well-crafted, biblically grounded, theologically perceptive, and relevantly applied. No issues are ducked. These are such capable scholars and theologians and this work shows it to great effect. But most importantly, this is a book that serves the church." 
—Graham A. Cole, dean and senior vice president of education, and professor of biblical and systematic theology, Trinity Evangelical Divinity School
 
"Biblical and theological studies have been estranged from one another for far too long—rarely cooperating, treating one another as strangers, and conversing only on occasion. The church should be grateful for professors Allison and Köstenberger, for they fuse their disciplines in a delightful project on the Spirit. The authors characterize their work with fully orbed biblical theology, from Genesis to Revelation, and a sensitivity to historical and systematic theology, all supported by careful interaction with secondary sources and helpful charts. What God has joined together, let no one separate." 
 —Benjamin L. Gladd, associate professor of New Testament, Reformed Theological Seminary
                                                 
"Köstenberger and Allison have written a very fine book. Brimming with biblical insight and alert to the riches of catholic trinitarianism, they offer a deeply edifying account of the Spirit's person and work, both in God and among us. Anyone interested in the pastoral importance of robust pneumatological teaching, its scriptural basis, and the teaching of the doctors of the universal church should read this erudite and comprehensive study."
 —Christopher R. J. Holmes, associate professor in systematic theology, and head of the Theology Programme, University of Otago, New Zealand
 
 "Commendably well researched and balanced, The Holy Spirit deserves wide appreciation even beyond its primary audience. Most treatments of pneumatology address particular issues, but Allison and Köstenberger engage a far more complete range of material."
 —Craig S. Keener, F. M. and Ada Thompson Professor of Biblical Studies, Asbury Theological Seminary
 
"This book is rich indeed! The biblical-theological section by Köstenberger is a wonderfully thoroughgoing treatment and will serve as a touchstone for future scholars. And the systematic-historical-theological section by Allison is a solidly evangelical treatment that ranges widely and integrates classical patristic, medieval, and Reformational doctrinal insights with contemporary viewpoints and controversies. The result is a work that should be on the shelf of every student of the Holy Spirit."
 —Matthew Levering, James N. and Mary D. Perry Jr. Chair of Theology, Mundelein Seminary
 
"This pneumatology will take the advanced and the novice alike on a delightful journey through the rich diversity of ideas to be found in the Scriptures and the tradition concerning the Holy Spirit. Yet, all along the way, the overarching themes of a coherent vision are built and become increasingly clear. I have just found my dream textbook on pneumatology."
 —Frank D. Macchia, professor of Christian theology, Vanguard University of Southern California, and associate director, the Centre for Pentecostal and Charismatic Studies, Bangor University, Wales, UK
 
 "In this volume, a seasoned biblical theologian and a historically-informed systematic theologian team up to provide a resource that will be valuable for both students and scholars. The result of their collaboration is a book that canvasses the breadth of biblical teaching while also drilling down deeply on several issues of historic and contemporary importance. I learned from it and will surely return to it in the future. This book is a substantive contribution to contemporary evangelical pneumatology."
 —Thomas H. McCall, professor of biblical and systematic theology, and director, Carl F. H. Henry Center for Theological Understanding, Trinity Evangelical Divinity School
 
"This compendium on the third person of the Trinity will be especially useful for evangelical students as both a textbook and reference work. I am especially impressed with the way biblical and systematic investigations are combined here. An auspicious first volume for an ambitious new series in theology."
 —Fred Sanders, professor, Torrey Honors Institute, Biola University
 
"Designating a book as unprecedented and the first of its kind can often be misleading and the fruit of what C. S. Lewis called "chronological snobbery." But that is not the case when it comes to this remarkable new volume on the Holy Spirit by Allison and Köstenberger. Having taught graduate courses on the Holy Spirit on multiple occasions, I was repeatedly frustrated by the lack of a biblically solid, evangelical treatment of the third person of the Godhead and his ministry among God's people. But no more. I'm hesitant to speak of any book as exhaustive or comprehensive, but this one comes close! From the Old Testament through the New, into church history and up to the present day, the authors have provided us with the most substantive, biblically rooted, and persuasive treatment of the Spirit to date. I cannot recommend it too highly."
 —Sam Storms, lead pastor of preaching and vision, Bridgeway Church, Oklahoma City, OK
                                          
 "Could one volume possibly contain everything necessary for a doctrine of the Holy Spirit? Now, we can answer that question with a hearty "Yes, and Amen!" Andreas Köstenberger and Gregg Allison have collaborated to offer contemporary Christians a summative and substantive treatment of the biblical basis for pneumatology along with an historically adept and culturally relevant systematic treatment of the Spirit's person and work. This is currently and may long remain the premiere introductory volume. Authors, thank you! Readers, take up and read!"
 —Malcolm B. Yarnell III, research professor of systematic theology, Southwestern Baptist Theological Seminary, and teaching pastor, Lakeside Baptist Church
 
 
 
 
 
B&H Academic, 9781462757749, 576pp.
Publication Date: June 1, 2020
About the Author
Andreas J. Köstenberger (Ph.D., Trinity Evangelical Divinity School) is senior research professor of New Testament and Biblical Theology at Southeastern Baptist Theological Seminary.

David S. Dockery es presidente de Union Univeristy en Jackson, Tennessee. Es autor y editor de más de 30 libros, entre ellos Renewing Minds [Renovando la mente], Southern Baptist Consensus and Renewal [El consenso y renovación de los bautistas del sur], Theologians of the Baptist Tradition [Teólogos de la tradición bautista], y Holman Bible Handbook​ [Manual bíblico Holman]. Dockery sirve en diferentes comités de educación y ministerio y es un editor para la revista Christianity Today. 

David S. Dockery is president of Union University in Jackson, Tennessee. He is the author or editor of more than thirty books, including Renewing Minds, Southern Baptist Consensus and Renewal, Theologians of the Baptist Tradition, and the Holman Bible Handbook. Dockery serves on several education and ministry boards and is a consulting editor for Christianity Today magazine.

Nathan A. Finn (PhD, Southeastern Baptist Theological Seminary) is provost and dean of the university faculty at North Greenville University.
 

Christopher W. Morgan (PhD, Mid-America Baptist Theological Seminary) serves as professor of theology and dean of the School of Christian Ministries at California Baptist University in Riverside, CA.