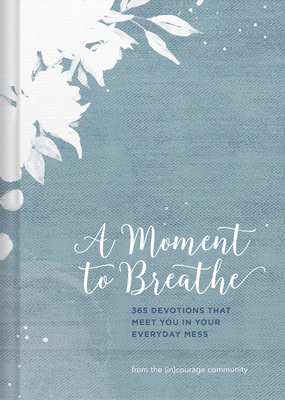 A Moment to Breathe (Hardcover)
365 Devotions that Meet You in Your Everyday Mess
B&H Books, 9781462767069, 392pp.
Publication Date: October 3, 2017
* Individual store prices may vary.
Description
When the rush of regular life leaves you breathless by day's end, this collection of everyday stories becomes the place where you can come as you are, and find yourself among friends. Friends who have been there. Friends who'll lean in close and say, "Me too!" Through our stories the bonds of friendship deepen as we listen to each other, laugh with each other, and learn from each other. Because we're better when we're living this one beautiful life together.
 
With stories from 80 writers, these pages become the very place your soul can exhale, where you can:
· Connect with the hearts of women through stories that echo your own.
· Find beauty in the ordinary and sometimes messy moments of your everyday life.
· See your own stories as an offering of hope to those around you.
· Treasure the unseen ways God moves through even your most regular days.
With 365 readings, each day begins with a passage of Scripture, tells a story of everyday faith, and encourages you to take a moment to breathe with a simple but fun way to complete your day. So kick off your shoes and join us for a relaxing but special time, where friends come together and share the real stuff of everyday faith.
About the Author
At (in)courage you are welcome to a place of faith, connection, and friendship, where you will always find yourself among friends. Founded in 2009 by DaySpring, the Christian products subsidiary of Hallmark Cards, Inc., the vision for (in)courage was to create a new home for the hearts of women, where women take turns pulling up a chair to share their stories of what Jesus looks like in their everyday, gloriously ordinary, and often messy lives. Since then, (in)courage has grown into a vibrant community that reaches thousands of women every day, welcoming them just the way they are, offering a space to breathe, loving support, and resources for meaningful connection.
Denise J. Hughes
is the author of 
Deeper Waters
 and the Bible study series 
Word Writers
. She enjoys serving as the Editorial Coordinator for (in)courage by DaySpring, and she always finds time for tea, books, and a good football game. You can connect with her at 
denisejhughes.com
 and on Instagram: @DeniseJHughes