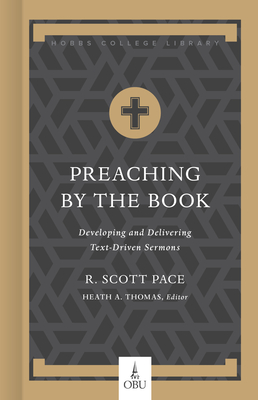 Preaching by the Book (Hardcover)
Developing and Delivering Text-Driven Sermons (Hobbs College Library)
B&H Academic, 9781462773343, 144pp.
Publication Date: March 15, 2018
* Individual store prices may vary.
Description
Preachers communicate God's word by fully considering their context and their congregation.

Preaching by the Book is a practical handbook offering fundamental guidance for preachers beginning to explore their gifts, and fresh insights for seasoned veterans desiring to refine their craft. R. Scott Pace challenges preachers to develop their style and their substance by considering their unique personality and gifts, the work of the Spirit, and the particular audience on a given occasion.
 
About the Author
R. Scott Pace is associate professor of preaching and pastoral ministry and associate director for the Center for Preaching and Pastoral Leadership at Southeastern Baptist Theological Seminary. He served as Hughes Chair and professor of Christian Ministry at Oklahoma Baptist University from 2009-2018.
Praise For Preaching by the Book: Developing and Delivering Text-Driven Sermons (Hobbs College Library)…
"
Preaching by the Book
 is a simple, concise, and faithful resource on how to prepare text driven sermons from Holy Scripture. It is clearly laid out and touches on all the essentials for faithful and engaging exposition. Scott Pace is a superb writer. This gift is put on marvelous display in this fine work on preaching. It is a joy to commend its wide use among students of homiletics."  
—Daniel L. Akin, president, Southeastern Baptist Theological Seminary  
"When I'm asked about a good introductory preaching book to put into the hands of a preacher, 
Preaching by the Book 
is one of the first books I will reach for. Scott Pace has produced a biblically and practically sound volume that is eminently readable. Especially important is his emphasis on calling people to faith in Christ in preaching. His content, clarity, and conciseness make this volume a helpful contribution and welcome addition to any preacher's library."
—David L. Allen, dean, School of Preaching, George W. Truett Chair of Pastoral Ministry, distinguished professor of preaching, Southwestern Baptist Theological Seminary   
"There cannot be too many good books on preaching, and I am glad to see Dr. Scott Pace's 
Preaching by the Book: Developing and Delivering Text-Driven Sermons
 added to that list. Every preacher, and everyone who desires to know more about preaching, will benefit immensely by working through this book. Every preacher and the churches they serve will be strengthened by this book."   
—Jason K. Allen, president, Midwestern Baptist Theological Seminary  
"Scott Pace has provided a resource for preachers that is concise, accessible, and relevant. His brief theology of preaching provides the 
What 
and the 
Why
 before jumping into 
How to preach
. He does, however, proceed to set forth a practical step-by-step model for preaching. This resource will help preachers at every level of experience and education. I thank God for the way this book will help shepherds feed the flock of God."  
—Hance Dilbeck Sr., pastor, Quail Springs Baptist Church, Oklahoma City, OK  
"Every generation of preachers faces the challenge of maintaining an unwavering commitment to the perfect nature of the Scripture while also engaging the hearers in a relevant manner. Thankfully, each generation produces books that inspire and instruct the contemporary preacher on how to effectively accomplish such a balancing act. 
Preaching by the Book
 is one of those books for this generation. It provides any preacher, regardless of training or experience, a wealth of material to assist in creating and presenting a well-crafted sermon. Dr. Pace superbly blends together both the theological and practical foundations necessary for the preacher who desires to preach the Word in a manner that both honors God and effectively engages those who would hear."
—Shane Hall Sr., pastor, First Southern Baptist Church, Del City, OK  
"
Preaching by the Book
 is far more than a summary of what a scholar says about preaching; Scott Pace helps us understand what the Scripture says about preaching. Like a great sermon, it flows easily, interestingly and persuasively from point to point. As I am without the benefit of a seminary education, this book has become my Preaching 101. It is both a primer for new preachers and a refresher for the veterans."  
—Doug Melton Sr., pastor, Southern Hills Baptist Church, Oklahoma City, OK  
"I wish someone would have given me a book on preaching like this one when I first started preaching! Dr. Pace has served (aspiring) preachers and teachers well by describing some of the foundations for expository preaching. His process for preparing and delivering text-driven sermons is very readable, clear, and to the point."   
—Tony Merida, pastor for preaching and vision, Imago Dei Church, Raleigh, NC, and associate professor of preaching, Southeastern Baptist Theological Seminary  
 "R. Scott Pace understands that preaching reflects a preacher's personality, but is fundamentally a theological endeavor. Thus, God's scriptural revelation must form the presuppositions of every faithful preacher about the task of sermon preparation and preaching, as well as, shape his method and blood-earnest passion. 
Preaching by the Book
 focuses on the nuts-and-bolts of solid sermon preparation that lead to faithfulness in the pulpit. Too often, the basics for preaching fidelity are precisely what many homiletic texts neglect. Pace's volume pursues clarity over cleverness and usefulness over trendiness, which means that this book will have a long shelf life."  
—David E. Prince, assistant professor of Christian preaching, The Southern Baptist Theological Seminary, and pastor of preaching and vision, Ashland Avenue Baptist Church, Lexington, KY
"Simple, clear and substantive. Those are the qualities I think of when I read Scott Pace's 
Preaching by the Book
. He hasn't attempted to over-analyze the sermon preparation and delivery process, but to boil it down so we can focus on the essentials. His simple and clear description of each component makes his work easy to read, and his substantive treatment of biblical exposition is faithful to a right understanding of what preaching is supposed to be. This is a delightful and helpful resource for both the weekly practitioner and the student-in-training."
—Jim Shaddix, director, Center for Pastoral Leadership and Preaching, W. A. Criswell Chair of Expository Preaching, professor of preaching, Southeastern Baptist Theological Seminary
   "Preaching is intrinsically complicated by the nature of the word and the nature of the task. As well, there is nothing simple about the acts of interpretation or communication. Still, approaching the task should be communicated in a clear, simple way. Scott Pace gets it. This volume communicates the weightiness of preaching in an accessible way. I'm so grateful for this book!"    
—Steven Smith, senior pastor, Immanuel Baptist Church, Little Rock, AR