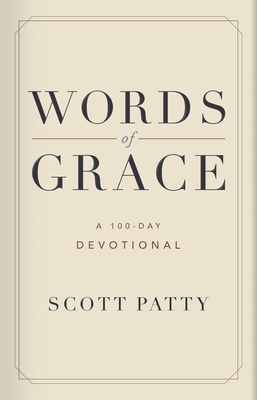 Words of Grace (Hardcover)
A 100 Day Devotional
B&H Books, 9781462774647, 224pp.
Publication Date: March 1, 2018
* Individual store prices may vary.
Description
Just as the body needs bread, so the soul needs grace. The Word of God is full of grace-filled words and is nourishment for our souls. God's Word is grace and prayerful meditation on the Word is an act of faith. By grace through faith we press the Word of God into our everyday lives. 

Words of Grace: A 100-Day Devotional, is a pastor's encouragement, written with a congregation in mind, to build a life centered on God's Word. Each day's reading starts with the Scripture, which is the written Word of God. The devotionals expand on the Scripture and are designed to shape your mind by a vision of God and stir your heart's affection for him. The goal of this book is your flourishing faith and fruitful obedience to Christ.
About the Author
Scott Patty is the founding pastor of Grace Community Church of Nashville, Tennessee. He was raised in Nashville and came to faith in Christ as a high school student. He is a graduate of Belmont University and Midwestern Baptist Theological Seminary. As a pastor, Scott's primary calling is to serve the congregation by casting a biblical vision for all of life through the preaching of God's Word. Scott and his wife Beth have two married daughters.
Praise For Words of Grace: A 100 Day Devotional…
I count my family extraordinarily blessed to have a wise and thoughtful pastor in Scott Patty. This devotional will show you why. This book will guide you, day-by-day, into a deeper sense of the love and holiness and presence of our God. Moving through these short meditations will take very little time from your day, but can change your life for the good in ways you might not expect.
-Russell Moore, President of the Ethics and Religious Liberty Commission of the Southern Baptist Convention

Scott Patty is one of my heroes here in Nashville. He is a pastor with a keen mind, a tender heart, and wise instincts. If he were my pastor, I would be fortunate indeed. But now through Words of Grace: A 100-Day Devotional, Scott serves us all, leading us into the green pastures and beside the still waters of daily gospel refreshment. I hope you will pick up this book and join me there!
-Ray Ortlund, pastor of Immanuel Church, Nashville, Tennessee, author of The Gospel: How the Church Portrays the Beauty of Christ and Marriage and the Mystery of the Gospel
 
None of us can live by bread alone, but only by every word that proceeds from the mouth of God. And we need this food every day. Scott Patty's Words of Grace sets before us bite-sized meals of truth from God's word that we can chew on throughout the day. 
-Nancy Guthrie, author of the Seeing Jesus in the Old Testament Bible study series
 
For several reasons, it's a great joy and honor to endorse Scott Patty's new book, Words of Grace. I've known Scott for over twenty-five years, and long before he wrote these "words of grace," he lived them before me, and extended them to me. As a fellow pastor and friend, I've had a ring-side seat, watching my brother's informed mind, enflamed heart, and extended hands express the gospel of God's grace in the greater Nashville community. Through the joys, pains, and transitions of life and ministry, Scott has been one of my main models of a leader smitten with the glory and grace of Jesus. Marinate in these 100 wonderful devotionals, and you'll see what I mean.
-Scotty Smith, pastor emeritus, Christ Community Church, Franklin; teacher in residence, West End Community Church, Nashville
 
Thank God He has not left us without a word. For it is by God's Word that we can know Him and know of His great promises through the gospel. Words of Grace will, I believe, serve as a catalyst for the people of God to again and again drink deeply from the Word of God and have their souls refreshed by our gracious God. It has been for me, and I pray it will be for you as well.
-Michael Kelley, Director of Discipleship, LifeWay Christian Resources
 
Confusing times beg for clarity. In this book, Scott Patty gives readers fresh insight infused with timeless truth, saying more with fewer words. Whatever you're facing, this book offers clarity from the core of the Christian faith. 
-John Kramp, SVB and Bible Publisher, HarperCollins Christian Publishing