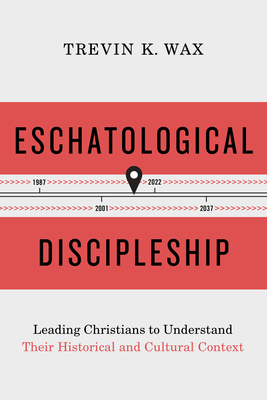 Eschatological Discipleship
Leading Christians to Understand Their Historical and Cultural Context
Paperback

* Individual store prices may vary.
Description
Discipleship is eschatological in nature, because the church that makes and receives disciples is eschatological in nature.
 
Often eschatology is thought to refer only to "last things" doctrines. However, eschatology in its broader sense encompasses the Christian view of time and the future of the world, informing both one's evangelism and ecclesiology. Failing to relate the eschatological dimension to discipleship leaves one with an incomplete worldview, imbalanced discipleship, and eventually, a tragic inability to model the Christian way of life.
 
By answering questions like "What time is it?" and "Where is history going?" Trevin Wax helps Christians view the past, present, and future biblically, and shapes their understanding of following Jesus.
Praise For Eschatological Discipleship: Leading Christians to Understand Their Historical and Cultural Context…
"Eschatological Discipleship is a brilliant book. In it, Trevin Wax argues that Christian discipleship cannot be reduced to the transmission of timeless truths that float above history and 
culture. Instead, Christian discipleship always and necessarily involves confronting the ideologies and rival eschatologies of our own contemporary context. In our own era, he argues, 
we must confront the Enlightenment, the Sexual Revolution, and modern Consumerism as rival eschatologies, exposing them as frauds and offering the gospel as our one-and-only hope."
 
—Bruce Ashford, provost and dean of faculty, Southeastern Baptist Theological Seminary
 
"Trevin Wax's Eschatological Discipleship is a much needed book that teaches that followers of Jesus are shaped in their thinking and actions by Jesus's kingship, and by the coming kingdom. God's future—including our future in it—constructs a worldview and supplies us with wisdom for living in the current age. Ultimately, every worldview, whether secularist or Islamic, has a view of the 'end.' By knowing God's plan for the end, we will be better equipped to work for the kingdom here on earth."
 
—Michael F. Bird, lecturer in theology, Ridley College, Melbourne, Australia
   
"With the publication of Eschatological Discipleship, Trevin Wax has solidified his role as an important Christian voice for the next generation. The call to biblical faithfulness, serious cultural engagement, careful worldview thinking, and long-term eschatological discipleship is masterfully and winsomely presented. Wax has provided us with a clearly written, insightful, well-researched, and illuminating work that will be essential reading for thoughtful Christian leaders in the church and in the academy. It is a genuine joy to recommend this outstanding work."
—David S. Dockery, president, Trinity Evangelical Divinity School
 
"Discipleship and eschatology are not often thought of in tandem. Discipleship is about following Jesus here and now, while eschatology is about what happens then and there. But in this important book, Trevin Wax shows the coinherence of these two biblical themes. An impressive theological study written with an eye for Great Commission reflection and praxis."
 
—Timothy George, founding dean, Beeson Divinity School of Samford University  
 
"It is not a matter of whether eschatology will shape the church's life but only a matter of which one. Discipleship, a burning need in the syncretistic American church, surely needs to be re-envisioned in terms of equipping God's people to more and more live out of a biblical eschatology of the kingdom. In this book Trevin Wax takes up this challenge and encounters the two most powerful rival eschatologies of our day—the Enlightenment notion of progress and Consumerism. I pray that God will use this book to enable the American church to reimagine discipleship in its missionary setting."
 
—Michael W. Goheen, director of theological education, Missional Training Center, and adjunct professor of missional theology, Covenant Theological Seminary
 
"The philosopher Martin Heidegger famously defined human existence as 'being-toward-death,' a posture that generates anxiety in view of our limited time. Trevin Wax does him one better: the Christian life is a matter of being-towards-discipleship, and discipleship is a matter of being-towards-end-time. Disciples take their bearings from the story of Jesus, especially its end: the hope of resurrection. Wax convincingly sets out the biblical basis for 'eschatological discipleship', which means the importance of waking up (and staying awake) to the reality that our citizenship in heaven begins now."
 
—Kevin J. Vanhoozer, research professor of systematic theology, Trinity Evangelical Divinity School
 
B&H Academic, 9781462776382, 288pp.
Publication Date: April 1, 2018
About the Author
Trevin Wax is senior vice president of Theology and Communications at LifeWay Christian Resources and a visiting professor at Wheaton College. A former missionary to Romania, Trevin hosts a blog at The Gospel Coalition and regularly contributes to The Washington Post, Religion News Service, World, and Christianity Today, which named him one of thirty-three millennials shaping the next generation of evangelicals. As former director of Bible Publishing at LifeWay, he led the launch of the Christian Standard Bible (CSB) and served as general editor of the CSB Worldview Study Bible. Currently he is the general editor of The Gospel Project, and an author of many books, including This Is Our Time, Eschatological Discipleship, Gospel Centered Teaching, and Rethink Your Self. He and his wife Corina have three children and live outside of Nashville, Tennessee.
or
Not Currently Available for Direct Purchase