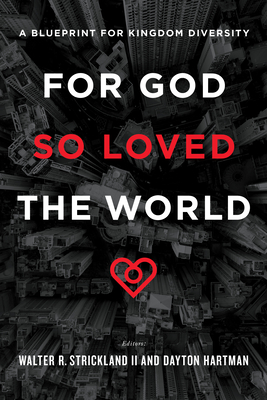 For God So Loved the World
A Blueprint for Kingdom Diversity
Paperback

* Individual store prices may vary.
Description
Scripture captivates us by describing a people from "every nation, tribe, people, and language."  In pursuit of this kingdom vision, Christians have not always navigated America's turbulent racial history in ways that honor others and glorify God. In For God So Loved the World, Dayton Hartman and Walter Strickland provide a blueprint for a better way, an invitation to Christ-centered diversity that is both descriptive and constructive.   Chapters in the book examine the historical context of the American church and its efforts to cultivate racial justice and unity, then present a unifying public theology, and practical guidance for the journey. Convicting and hopeful alike, For God So Loved the World motivates readers to seek reconciliation in light of biblical warrant, personal sanctification, and the church's corporate witness.  
Praise For For God So Loved the World: A Blueprint for Kingdom Diversity…
"In this volume, significant voices within the Southern Baptist Convention candidly engage the denomination's turbulent past surrounding race and gender roles. The essays are at once historical, biblical, personal, and practical. These are not easy or comfortable discussions, but the authors write with an irenic spirit that should encourage ongoing dialogue and constructive change."
 —M. Daniel Carroll R., Blanchard Professor of Old Testament, Wheaton College
 
 "Oh, how our generation needs the mind and voice of Walter Strickland and Dayton Hartman! They have come to the rescue again. I have long wrestled with what I sense is a kind of theological imperialism imposed upon people of color in these yet to be United States. It's a fragile matter handled with care and depth in these pages. We say that we believe that all mankind is made in the image and likeness of God. This text gives us a way to align our explicit theology with our implicit action. Read it and weep."
 —Charlie Dates, senior pastor, Progressive Baptist Church
 
 "The American church has not always loved people well, and as followers of Jesus, we have an opportunity to change this not only within our churches but within ourselves as well. To become people who seek true kingdom diversity by living our lives in a way that values all people. As someone who not only wants to love everyone well, and as someone who wants to teach others to love him well, I found this book to be a wealth of information and encouragement. There were parts of which I found myself reading over and over again, sometimes in disgust and sometimes in awe. Pick this book up only if you are willing to acknowledge where we have gone wrong and willing to forge a new path full of love, grace, and truth for all people made in the image of God."
 —Jamie Ivey, podcast host of The Happy Hour with Jamie Ivey
  
"I commend the contributors to this timely and challenging volume for tackling some of the most confounding issues facing the church today. Regardless of your perspective on those issues, you will profit from reading this book."
 —Thomas S. Kidd, distinguished professor of history and James Vardaman Endowed Professor of History, Baylor University
 
 "Human cultures and ethnicities reflect the abundance and creativity of God's nature. Yet, at the same time, they create barriers that we sometimes struggle to overcome. For God So Loved the World addresses the challenges and gifts of human difference and diversity, along with the unity that comes—or should come—for all who are in Christ. I don't think I've ever read a book that so holistically, comprehensively, and convincingly addresses the beauty and richness of God's kingdom, both now and to come."
 —Karen Swallow Prior, research professor of English and Christianity & Culture, Southeastern Baptist Theological Seminary
 
 "For God So Loved the World is a much-needed entry in literature on diversity within the church. It needs to be read by anyone who wants to be part of making our Christian communities more diverse. The all-star lineup of writers provides important information and challenges us to do what we can to enhance diversity within the body of Christ. The book is theologically sound and will resonate with those who take seriously the Word of God. Read this book and then give it to a friend. Think about these issues. That is how we are going to find solutions that move us away from Sunday morning being the most segregated time of the week."
 —George Yancey, professor of the social sciences, Baylor University
  
"For God So Loved the World: A Blueprint for Kingdom Diversity is so thoughtful and so affective I could not put this tour de force down until every word was consumed. Rooted in Scripture, these inerrantists also listen carefully to the cultures they engage for the Great Commission. Today's most important theological locus—anthropology—is treated in its biblical, historical, and practical dimensions. The voices of African, Anglo, Asians, and Hispanic Americans, both women and men, advance human dignity better than anyone has yet done. Strickland and Hartman, Akin and Ashford, and Bowen and Whitfield, along with many others, paint a vision that I pray all Baptists and Evangelicals will now embrace and never relinquish."
 —Malcolm B. Yarnell III, research professor of systematic theology, Southwestern Baptist Theological Seminary, and teaching pastor, Lakeside Baptist Church
 
B&H Academic, 9781462778300, 256pp.
Publication Date: June 5, 2020
About the Author
Dayton Hartman (PhD, North-West University) is lead pastor at Redeemer Church, Rocky Mount, NC. 

Walter R Strickland II (PhD, University of Aberdeen) is assistant professor of systematic and contextual theology and associate vice president for diversity at Southeastern Baptist Theological Seminary.
or
Not Currently Available for Direct Purchase