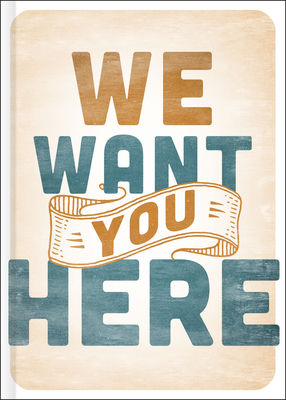 We Want You Here (Hardcover)
B&H Books, 9781462780891, 80pp.
Publication Date: March 1, 2018
* Individual store prices may vary.
Description
The message is basic but profound. We want guests to know they are welcome to the church. This book is a gift to guests to communicate that very message.

Bestselling author Thom S. Rainer (I Am a Church Member, Autopsy of a Deceased Church) has created a tool for churches to become more hospitable through a brief, welcoming book that introduces the ministry of the local church to guests. We Want You Here is a clear and instructive message to be given to church guests. Rainer facilitates the follow up conversation that every pastor would have, if they had the opportunity. By giving away the book to guests, they are encouraged, in a non-intrusive manner, to continue to reflect on the decision to visit their church.

Those churches who share We Want You Here will be able to tell their guests:
• We Really Want You Here
• This is Not a Place for Perfect People
• We Would Like to Get to Know You
• This is Where Families Grow Strong
• Getting to Know the One Who Made Us
• Come Make a Difference with Us
• Thank You for Being Here
About the Author
Thom S. Rainer is the president and CEO of LifeWay Christian Resources, one of the largest Christian resource companies in the world. Also a respected pastor and researcher, he has written more than twenty books and coauthored the No. 1 best seller Simple Church. Rainer and his wife, Nellie Jo, have three grown sons, several grandchildren, and live in Nashville, Tennessee.
 
Thom S. Rainer es el presidente y director ejecutivo de LifeWay Christian Resources, una de las mayores editoriales cristianas del mundo. También es reconocido como pastor e investigador, ha escrito más de veinte libros y es coautor del reconocido best seller Iglesia simple. Rainer y su esposa, Nellie Jo, tienen tres hijos adultos, varios nietos y viven en Nashville, Tennessee, EE.UU.