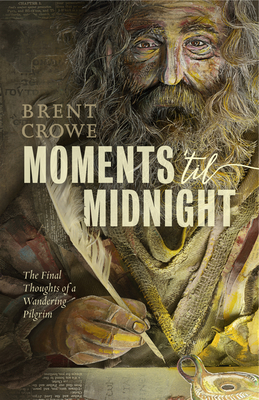 Moments 'til Midnight
The Final Thoughts of a Wandering Pilgrim
Paperback

* Individual store prices may vary.
Other Editions of This Title:
Compact Disc (9/1/2018)
Description
"I have fought the good fight, I have finished the race, I have kept the faith."

In the biblical letter of 2 Timothy, the apostle Paul reflected on his passing life. It was but a vapor. He was a pilgrim, passing through this life and into the next. Moments 'til Midnight creatively peels back the curtain of Paul's final hours. Author Brent Crowe imaginatively retells the last twelve hours of Paul's life, from the perspective of the apostle himself. Along the way, readers will be encouraged to live with purpose, to redeem the time, and to embrace the awesome reality that they too are on a sacred journey.

With no more letters to write, no more churches to plant, no more sermons to preach, and no more missionary journeys to embark upon, Paul awaited his death sentence. What were his final reflections on life? How did he view the race he had run? How should you view the race set before you?
Praise For Moments 'til Midnight: The Final Thoughts of a Wandering Pilgrim…
In Moments 'til Midnight, Brent draws some practical and powerful lessons for students today from the life of the apostle Paul, who is by any measure one of the most influential people of all time. This book has a wonderful balance of stories, theology, and practical wisdom. As soon as it is out, I want a copy for my own teenage son.
Sean McDowell, author, apologist, and assistant professor of Apologetics, Biola University
Brent's book Moments 'til Midnightprovides a fresh perspective on one of the most fascinating leaders ever to live, the apostle Paul. The book is a powerful reminder that all of us, just like Paul, are simply trying to live and lead well. Moments 'til Midnight helps our "want to" become our "how to," so that we can live each day with purpose and with a sacred sense of intentionality to redeem every moment on the journey.
Brad Lomenick, founder of BLINC and author of H3 Leadership and The Catalyst Leader
Considering what the last hours of the apostle Paul's life might have been like, Moments 'til Midnight takes us through his life, theology, and passions. Biblically faithful and practically helpful, I read the book in a single day, anticipating the next chapter. Brent Crowe has a gift for writing, and it is on full display in this gem.
Daniel L. Akin, president, Southeastern Baptist Theological Seminary
The pages of this book are filled with fresh and relevant truths that I will carry with me for years to come. It will encourage you to let your own life mirror Paul's unwilling- ness to relent in sharing the gospel, no matter the situation. Moments 'til Midnight is thought-provoking, filled with wisdom, and gives us the timely message that as believers in Jesus, this world is not our home.
Bethany Barr Phillips, worship leader
Brent Crowe writes from a unique perspective. His use of visual imagery and strong theology resonate in my heart as I empathize with Paul in his last few hours. With themes like grace, redemption, transformation, and forgiveness, I found myself, my story throughout its pages. And where I didn't find myself and wish I would have, it inspired me to press on and endure. You will find your story somewhere in the pages of this book, and Brent's writing will inspire you and encourage you in taking the next step on your journey with Jesus.
Matt Roberson, lead pastor, The MET Church in Houston, Texas
Moments 'til Midnight is more than a captivating title; it is a call- ing to have a captivating testimony. Dr. Brent Crowe has done it once more with yet another resource that inspires us all on our Jesus journey to make our life count, not just through daily moments, but divine moments. Counting the cost begins with knowing we are not promised tomorrow; there- fore, don't do tomorrow what God has told you to do today.
Ed Newton, pastor Community Bible Church, San Antonio, Texas
I'm a huge fan of the apostle Paul and, now, a huge fan of Brent Crowe's writing. In Moments 'til Midnight, Crowe paints a picture of Paul's life and final hours that deeply impacted me—and I'm convinced it will impact you too. Packed with biblical insights and practical takeaways, this book is a must- read for anyone who wants to, like the great apostle, live a life for the maximum glory of God and the exponential advancement of his kingdom. Sir Francis Bacon once said, "Some books are to be tasted, others to be swallowed, and some few to be chewed and digested." Devour, digest, and enjoy this wonderfully powerful book.
Greg Stier, founder and CEO of Dare 2 Share (dare2share.org)
B&H Books, 9781462787777, 240pp.
Publication Date: September 1, 2018
About the Author
Brent Crowe is Vice President of Student Leadership University in Orlando, Florida. He is married to Christina and has three children: Gabriel, Charis, and Mercy. He holds a Doctorate in Philosophy and two Master's degrees—a Master of Divinity in Evangelism and a Master of Arts in Ethics—from Southeastern Baptist Theological Seminary.
or
Not Currently Available for Direct Purchase