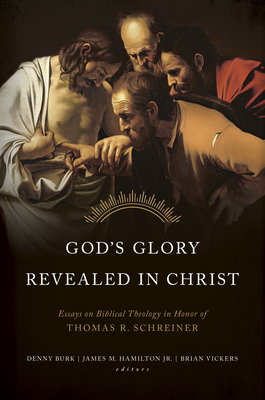 God's Glory Revealed in Christ
Essays in Honor of Tom Schreiner
Hardcover

* Individual store prices may vary.
Description
Over his decades in Christian academia, Thomas R. Schreiner has created a diverse body of work in New Testament studies, biblical theology, and pastoral ministry. In honor of Schreiner's ongoing work and commitment to faithful, winsome conversations about the central issues of our faith, editors Denny Burk, James M. Hamilton Jr. and Brian Vickers compiled nineteen essays addressing different aspects of biblical theology. These essays fall into four categories: Whole Bible Approaches to Biblical Theology as well as Major Themes and Issues, Background Issues, and Applications in Biblical Theology. Contributors discuss important topics, such as: dispensationalism, covenant theology, sanctification, and the kingdom of God and the public square. Readers of God's Glory Revealed in Christ will deepen their understanding of biblical theology, learning, as Tom Schreiner has consistently modeled, how to apply biblical theology to life.  

Contributors:
Clinton E. Arnold, Ardel Caneday, Denny Burk, D. A. Carson, Simon Gathercole, Joshua Greever, Donald A. Hagner, James M. Hamilton Jr., Barry Joslin, John Kimbell, Jason Meyer, Russell D. Moore, John Piper, Rob Plummer, Patrick Schreiner, Mark A. Seifrid, Ray Van Neste, Brian Vickers, Bruce Ware, Jarvis J. Williams, Shawn D. Wright, Robert W. Yarbrough
 
Praise For God's Glory Revealed in Christ: Essays in Honor of Tom Schreiner…
"Tom Schreiner is a remarkable evangelical scholar, mentor, churchman, husband and father. He is also my friend and someone for whom I have the highest regard. The excellent essays in this volume serve well the biblical admonition to give honor to whom honor is due." 
 
—Daniel L. Akin, president, Southeastern Baptist Theological Seminary

"The list of contributors for Tom Schreiner's Festschrift is excellent. This is a book that should be very beneficial for scholarship and the church. Anyone interested in biblical theology should read this book."
 
—G. K. Beale, J. Gresham Machen chair of New Testament, research professor of New Testament and biblical interpretation, Westminster Theological Seminary
 
"God's Glory Revealed in Christ is a fine tribute to an outstanding and faithful biblical scholar, who models the Gospel. This is an excellent collection of essays on a topic close to the heart of Tom Schreiner: biblical theology.  Fascinating, stimulating, enthralling and faithful.  It is difficult to put this book down once you begin." 
 
—Stephen Dempster, professor of religious studies, Crandall University
 
"God's Glory Revealed in Christ honors a worthy recipient (Tom Schreiner) with excellent content. I found the whole volume stimulating and useful. The section on 'Whole Bible Approaches to Biblical Theology', for instance, was very helpful. When I teach Covenant Theology, I like to introduce students to some of the various evangelical 'schools' of biblical theology (classic dispensationalism, modified dispensationalism, progressive dispensationalism, new covenant theology, etc.). The chapters here will aid me in providing my students with a digest of opinion, as well as familiarizing them with the discipline of biblical theology. Tom is a blessing to all of us in the confessional part of the academy, so I am as delighted to see a volume dedicated to him, as I am thankful to God for his scholarship and fidelity.
 
—Ligon Duncan, chancellor and CEO, Reformed Theological Seminary
 
"For a collection of essays to be a fitting expression of thanks to God for a man, it really should reflect the passions, interests, contribution and character of the man. This marvellous volume does all that and more. Tom Schreiner's contribution to the life of the church of the Lord Jesus Christ has been remarkable - few have managed to live in the rarefied air of convoluted exegetical debates, to complete soaring biblical theological projects, to fight the good fight of the crucial issues of the day, to treat both 'friend' and 'foe' with quiet joy-filled grace whilst at the same time, being a passionate and committed preacher of the gospel in the local church. In the grace which God supplies, Tom has done all this and more. This Festschrift reflects this Christ-centred richness - it is remarkable in its breadth, depth, rigour and pastoral concern and in all this, is a worthy 'thank offering' for the life and ministry of Thomas R. Schreiner.

—Gary Millar, principle, Queensland Theological College, Australia

"I want to be like Tom Schreiner when I grow up. This collection of thoughtful essays honors a faithful husband, father, pastor, professor, exegete, and theologian."

—Andy Naselli, associate professor of systematic theology and New Testament, Bethlehem College and Seminary, and elder, Bethlehem Baptist Church

"Tom Schreiner is one of the most productive evangelical scholars in the English-speaking world, whose monographs, commentaries, and essays are of immense value for scholars and students alike. These essays by colleagues, students, and friends are both a fitting tribute to his influence and at the same time an important contribution to biblical theology, one of his main concerns, aptly summarized in the title God's Glory Revealed in Christ."  
 
—Eckhard J. Schnabel, Mary F. Rockefeller Distinguished Professor of New Testamen, Gordon Conwell Theological Seminary
 
"This very fitting tribute to my friend Tom Schreiner contains essays from a variety of American Evangelicals presented from several different theological perspectives. Readers may not always agree with each essay's theological orientation, but every essay is well-written and worth reading, considering, and digesting. The editors are to be commended for assembling this volume. Each of them contribute to it, and their essays alone make this book well worth owning."
 
—Andrew Steinmann, distinguished professor of theology and Hebrew, Concordia University Chicago
 
"Tom Schreiner's work has been a blessing to Christian men and women all over the world. I am very glad that this collection of excellent essays has been put together in his honor. Serious work in the area of biblical theology is a heartening sign of health in evangelical biblical scholarship and these essays make an important contribution to the contemporary conversation. This book will be immensely helpful for pastors and scholars alike."
 
—Mark D. Thompson, principal, Moore College, Australia
 
"Those who have contributed to this volume, and the contributions themselves, honor well the life and work of a friend, colleague, and mentor. In this collection, there is something of interest for almost anyone working in biblical studies and theology. It is clear from both contributor and content that Schreiner has impacted a generation pastor-scholars and scholar-pastors with his faithful teaching and writing. There is no doubt that Schreiner's work will continue to serve the church for generations to come.
 
—Miles V. Van Pelt, Alan Hayes Belcher Jr. Professor of Old Testament and Biblical Languages, director, Summer Institute for Biblical Languages, Reformed Theological Seminary
 
B&H Academic, 9781462795581, 320pp.
Publication Date: November 28, 2019
About the Author
Denny Burk is professor of biblical studies and director of The Center for Gospel and Culture at Boyce College. He also serves as associate pastor of Kenwood Baptist Church in Louisville, KY.

James M. Hamilton Jr. is professor of biblical theology at The Southern Baptist Theological Seminary. He also serves as pastor of preaching of Kenwood Baptist Church in Louisville, KY.

Brian Vickers serves as professor of New Testament interpretation and biblical theology at The Southern Baptist Theological Seminary.
 
or
Not Currently Available for Direct Purchase