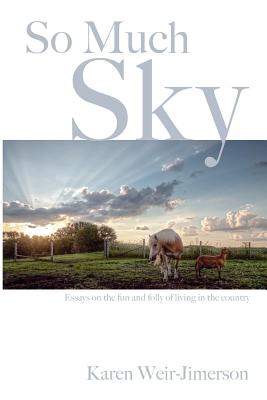 So Much Sky (Paperback)
Essays on the Fun and Folly of Living in the Country
Createspace Independent Publishing Platform, 9781463502430, 164pp.
Publication Date: September 8, 2011
* Individual store prices may vary.
Description
In her delicious collection of essays, "So Much Sky," author Karen Weir-Jimerson offers up bite-sized gems that view modern life through a rural lens. Many of these pieces were originally published in the author's popular "Slow Lane" column for Country Home magazine, and seeing them here collected one is convinced that the column was aptly named. Time does indeed seem to slow as Weir-Jimerson lures us into a charming world of chirping crickets, rogue tornados, and country characters both animal and human. The essays are arranged by season. In spring we meet Rose, a Border collie puppy who gives the lie to the difficulty of herding cats. In summer, a neighbor's bull invades the garden sparking a new take on poet Frost's advice about the importance of fences. In autumn, crime takes center stage and a sister is corrupted, as the author leads a dawn raid on a local cemetery's overabundant hydrangea blossoms. In winter we can smell the cookies baking as winter's "roulette wheel" spins out an Iowa snow day of car-sized drifts and old movies by the fire. Garden writer and essayist Weir-Jimerson is not farm-raised. She's a working mother of suburban background with rural inclinations who, along with her husband Doug and two young sons (now grown), turns a rough Iowa farmstead into a little slice of heaven. She is also a gifted and natural storyteller. From spring through winter we share the family's adventures with lambing, lack of closets, sheep shearing, morel hunting, finding skeletons in boxes at rural auctions, the political correctness of home-grown peas, irresistible petty crime, green Jello as a food group, bird and butterfly migration, a cacophony of clocks, and unsuccessful horseback rides that land you flat on the ground, so close to the earth you actually hear the hooves clattering away, and more. Weir-Jimerson brings to each of these short delicacies an acute eye for detail, an ample helping of humor, a joyful command of language and a humanity, passion and wit sharpened by a life lived far from the madding crowd.
About the Author
Karen Weir-Jimerson lives and gardens on three acres in rural Iowa. She and her husband live in a renovated 1903 foursquare farmhouse. Karen is a columnist for Country Gardens magazine and writes from a converted chicken house, which is her office/studio. In addition to So Much Sky, she has written eight books on gardening.