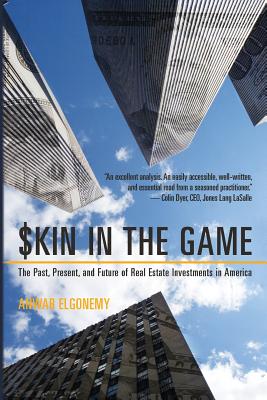 Skin in the Game: The Past, Present, and Future of Real Estate Investments in America (Paperback)
The Past, Present, and Future of Real Estate Investments in America
Createspace Independent Publishing Platform, 9781463507657, 520pp.
Publication Date: March 2, 2012
About the Author
Anwar Elgonemy draws on over twenty years of experience in real estate acquisitions, developments, financings, and valuations. Elgonemy speaks four languages and has advised real estate clients throughout the United States, the Caribbean, Europe, the Middle East, Latin America, and Southeast Asia. Currently, he is director of acquisitions for Equinox Hospitality Group, a San Francisco-based private equity firm that focuses on the lodging sector. Previously, Elgonemy was a senior vice-president with Jones Lang LaSalle (NYSE: JLL). Elgonemy is a Certified Commercial Investment Member (CCIM), Counselor of Real Estate (CRE), Fellow of the Royal Institution of Chartered Surveyors (FRICS), and a Member of the Appraisal Institute (MAI). Widely published, he has also attained top-tier media coverage in the New York Times, Wall Street Journal, Financial Times, and Time magazine. He is an alumnus of the University of Houston and the Harvard University Graduate School of Design. REVIEWS: "Anwar Elgonemy's Skin in the Game is an excellent analysis of the unresolved problems in the post-crisis US financial system-and particularly the real estate sector-that points out looming risks and possible solutions to avert further catastrophe. Skin in the Game is an easily accessible, well-written, and essential read from a seasoned practioner." -Colin Dyer, Chief Executive Officer, Jones Lang LaSalle. "Anwar Elgonemy brings his invaluable perspective as a commercial real estate strategist to the tangled story of the financial crisis and breaks down its many mysteries into clear, thorough, and lively explanations that never lose sight of the most important factor of all: human psychology. Skin in the Game is an excellent resource." -Alyssa Katz, author of Our Lot: How Real Estate Came to Own Us and Adjunct Faculty member at New York University's Arthur L. Carter Journalism Institute. "This is a great deep-dive into the world of real estate finance. Well-written, impressively researched, entertaining, and educational." -Matthew Anderson, Managing Director, Trepp LLC. "First-time author Elgonemy offers an in-depth look at the housing market collapse, and suggests changes to mortgage practices to prevent its recurrence. Elgonemy's book is thorough and well-researched. Readers will find a wealth of information and ideas."-Kirkus Reviews.
Advertisement