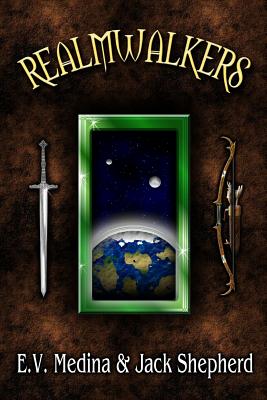 Realmwalkers (Paperback)
Createspace Independent Publishing Platform, 9781463520960, 462pp.
Publication Date: July 24, 2011
* Individual store prices may vary.
Description
No one on the magical, medieval world of Tiaera - not the Goddess Astria, not her servants the Royal Mystics, not even Alain Harper and his two fellow realmwalkers - knew where Solita came from. The inter-dimensional vortex called "The Passage" that had dropped her into a chilly mountain lake had left her without memories - and with a few tantalizing clues to her past. Now Solita and her newfound friends and allies must embark on a world-girdling voyage, facing evil godlike beings, terrifying monsters and rapacious pirates along the way, searching for the right time, place and means not only to unlock Solita's past and to return her home, but to save Tiaera in all its beauty and wonder from utter destruction.
About the Author
E. V. Medina is a medieval fantasy writer, blogger, graphic artist and crafter. She is also an Internet content writer known as Leafygreens, and her articles, reviews, short stories and poetry have been published online at Associated Content, Bukisa, MyLot and Triond. As a member of the Lake Havasu City Writers Group and helps design their promotional materials. She is also their social network administrator and recently served as their Vice-Chairperson. She created and maintains a medieval fantasy website, www.Dragonling.com, that offers links to her blogs, graphics, poetry, and short stories. Her latest project is as co-author, designer and illustrator of "Realmwalkers" which is now available as a soft cover book and ebook. Visit http: //Tiaera.blogspot.com for more information. * * * * * * * * * * * * Jack Shepherd is the pen name of a consultant for the Living Church of God (Charlotte, NC, USA) and a student of the late Suzanne Haik-Vantoura and of her work, The Music of the Bible Revealed. He is the editor and co-publisher of the English book by that title (1991). A man of highly diverse interests, he maintains a number of Web pages and blogs (all of which may be accessed at www.rakkav.com) and also writes songs and instrumental works; he also performs on the piano, Celtic harp and lyre (kinnor). He is a member of a number of professional societies, and is a serious student of the personality type models developed by Linda V. Berens and other psychologists. With a lifelong interest in reading, watching, role-playing and writing speculative fiction, for him art has imitated life and life imitated art with unusual closeness. Realmwalkers is his first published work of fiction as a co-author. Stories set in his own fictional universe have been published previously on Triond.com and in his personal blog The Portal of Light (WordPress).