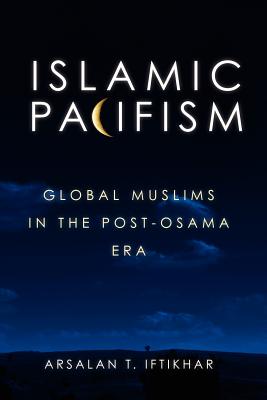 Islamic Pacifism: Global Muslims in the Post-Osama Era (Paperback)
Global Muslims in the Post-Osama Era
Createspace Independent Publishing Platform, 9781463553128, 310pp.
Publication Date: September 8, 2011
About the Author
Arsalan Iftikhar is an international human rights lawyer, global media commentator and founder of TheMuslimGuy.com. Arsalan is a regular weekly political commentator/legal analyst for the National Public Radio (NPR) show "Tell Me More" with Michel Martin and he is also a regular contributing writer for Esquire Magazine (Middle East edition) and CNN.com on domestic and international issues affecting our world today. His interviews, commentaries and analyses have regularly appeared in virtually every major media outlet around the world including: CNN, BBC World News, The TODAY Show, National Public Radio (NPR), FOX News Channel, MSNBC, Associated Press, C-SPAN, Voice of America (VOA), Agence France-Presse (AFP), USA TODAY, NBC Nightly News, The Washington Post, ABC World News Tonight, Los Angeles Times, CBS News Up to the Minute, The New York Times, Rolling Stone, TIME, The Economist and Newsweek magazines (among dozens others worldwide). In May 2011, Arsalan was named one of the top 12 Muslim Twitter accounts by The Huffington Post and his published columns and written articles have appeared in major publications around the world including: CNN.com, USA TODAY, Esquire Magazine (Middle East edition), Houston Chronicle, Detroit Free Press, The Providence Journal, San Diego Union-Tribune, Charlotte Observer, St. Louis Post-Dispatch, Kansas City Star, Miami Herald, The Jakarta Post and many more publications around the world. In 2006, the French Ambassador to the United States personally named Arsalan to the Personnalites d'Avenir (Personalities of the Future) World Leader Program in Paris sponsored by the French Foreign Ministry. Additionally, some of Arsalan's international speaking venues have included: Harvard University, Stanford University, Georgetown University, Johns Hopkins University, University of Pennsylvania, Northwestern University, University of Michigan School of Law, The George Washington University Elliott School of International Affairs, Cornell University, Washington University School of Law, The Organization for Security and Co-operation in Europe (OSCE), The Newseum, The Rockefeller Foundation, and The British Museum in London. Arsalan graduated from Washington University in St. Louis in 1999 and received his law doctorate from Washington University School of Law in 2003. A native of Chicago, he specializes in international human rights law and is licensed to practice law in Washington DC.
Advertisement