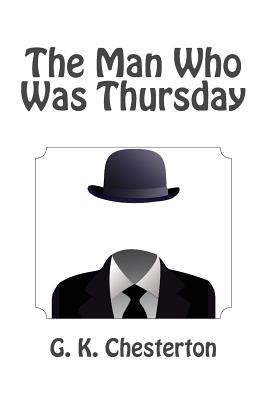 The Man Who Was Thursday (Paperback)
Createspace Independent Publishing Platform, 9781463574604, 118pp.
Publication Date: June 1, 2011
Other Editions of This Title:
Paperback (6/25/2018)
Paperback (6/21/2018)
Paperback (5/24/2008)
Paperback (10/23/2018)
Paperback (11/28/2017)
Paperback (9/24/2019)
Paperback (5/18/2018)
Paperback (4/12/2013)
Paperback (12/25/2019)
Paperback (12/10/2012)
Paperback (10/23/2019)
Paperback (8/8/2019)
* Individual store prices may vary.
Description
In an article published the day before his death, G.K. Chesterton called The Man Who Was Thursday "a very melodramatic sort of moonshine." Set in a phantasmagoric London where policemen are poets and anarchists camouflage themselves as, well, anarchists, his 1907 novel offers up one highly colored enigma after another. If that weren't enough, the author also throws in an elephant chase and a hot-air-balloon pursuit in which the pursuers suffer from "the persistent refusal of the balloon to follow the roads, and the still more persistent refusal of the cabmen to follow the balloon.
About the Author
Gilbert Keith Chesterton (1874-1936) was an English writer. His prolific and diverse output included philosophy, ontology, poetry, playwrighting, journalism, public lecturing and debating, literary and art criticism, biography, Christian apologetics, and fiction, including fantasy and detective fiction. Chesterton has been called the "prince of paradox." Time magazine, in a review of a biography of Chesterton, observed of his writing style: "Whenever possible Chesterton made his points with popular sayings, proverbs, allegories-first carefully turning them inside out." For example, Chesterton wrote "Thieves respect property. They merely wish the property to become their property that they may more perfectly respect it." Chesterton is well known for his reasoned apologetics and even some of those who disagree with him have recognized the universal appeal of such works as Orthodoxy and The Everlasting Man. Chesterton, as a political thinker, cast aspersions on both liberalism and conservatism, saying, "The whole modern world has divided itself into Conservatives and Progressives. The business of Progressives is to go on making mistakes. The business of the Conservatives is to prevent the mistakes from being corrected." Chesterton routinely referred to himself as an "orthodox" Christian, and came to identify such a position with Catholicism more and more, eventually converting to Roman Catholicism from Anglicanism. George Bernard Shaw, Chesterton's "friendly enemy" according to Time, said of him, "He was a man of colossal genius." Biographers have identified him as a successor to such Victorian authors as Matthew Arnold, Carlyle, Newman, and Ruskin.