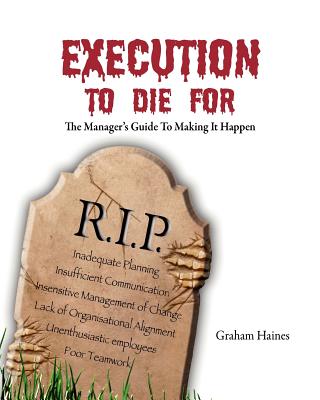 Execution to Die For (Paperback)
The manager's guide to making it happen
Createspace Independent Publishing Platform, 9781463592936, 256pp.
Publication Date: October 24, 2011
* Individual store prices may vary.
Description
This book is about overcoming the barriers to execution; the barriers that frustrate managers the world over as they see their plans and strategies undermined by poor execution. The author Graham Haines identifies 36 barriers to making it happen, explains why they occur and what to do about them. The book draws on the author's forty years of experience developing plans for others to implement and executing the plans of others. Barriers that are caused by inadequate planning, lack of alignment, inability to manage change and unenthusiastic employees are among those addressed. The book is packed with case studies and anecdotes from all over the world of what to do - and what not to do - to achieve "Execution to Die For". Comprehensive and wide ranging in its scope, "Execution to Die For" is a must-buy addition to any manager's toolkit. Haines on Planning "Planning and execution are not separate activities - the seeds of success in execution are sown the moment the planners sit down to plan" Haines on Employee Engagement "I believe Employee Engagement to be a misnomer. It should be Employer Engagement - it's the role of managers to engage with their employees, not the other way around" Haines on Managing Change "It may seem an obvious distinction but whereas planning is all about the analysis of environments, markets, products, IT, functions and processes; implementation is all about people" Haines on Teams "The primary benefit of teams is seen as enhanced organisational performance with the spin-off being quality of individual work life" Haines on Communication "Effective Communication is the Central Nervous System of any organisation. If it's damaged, paralysis is the result.
About the Author
Prior to establishing his own management and strategic marketing consultancy in 1987, Graham Haines worked in business development in the UK, Europe and Australia for a major international chemical company. One of the many lessons learned from this experience was that the more people involved in the execution of a particular plan, the harder it was to make it happen. This observation has been reinforced by his consulting experience and over the years, he started to compile a list of the barriers to execution and to sort the barriers into categories depending at which stage in the operational process they occurred. It was at this juncture that Graham Haines recognised the need for a model that covered the entire cycle from planning through to implementation, monitoring, measuring and adapting. Then each barrier would not only have a "home" but they could also be arranged in a logical sequence. The Wagon Wheel Way was the result, a unique model based on the construction, operation and maintenance of an iconic and memorable variant of man's greatest invention. Graham is a Certified Management Consultant and a Certified Practicing Marketer. He has a joint honours degree in Law & Economics from Durham University in the UK and a Graduate Diploma of Education from Melbourne University, Australia. His web site www.planstoreality.com.au contains upwards of sixty articles upon which "Execution to Die For" is based. This is his second book.