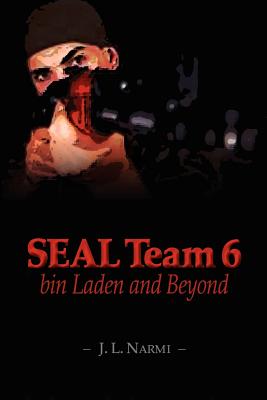 Seal Team 6, Bin Laden and Beyond: Bin Laden and Beyond (Paperback)
Bin Laden and Beyond
Createspace Independent Publishing Platform, 9781463610982, 344pp.
Publication Date: September 23, 2011
Description
ACTION, INTRIGUE, SUSPENSE, POLITICAL DRAMA, MILITARY STRATEGY, EMOTION, DEATH, VICTORY, EXHAUSTION...these are some of the words to describe what a reader will find in J.L. Narmi's novel, SEAL Team 6, bin Laden and Beyond. KIRKUS BOOK REVIEW, edited summary.... A fictional account of SEAL Team 6..... Geno Genelli, having led the "takeout mission" against bin Laden, is called upon for an assignment deemed more treacherous than any the SEAL leader has previously experienced. Terrorists, under the guidance of Imran Ali Hamza, are planning an attack on the Royal Family of Saudi Arabia. The mission becomes more crucial, however, when the terrorists seize the royal palace, and Secretary of State Kathryn Kurtz is one of the hostages. In his debut novel, Narmi expertly unifies real-world events, such as 9/11 and the failed Operation Eagle Claw during the Carter presidency, with the fictional characters and narrative. Several of the earlier chapters detail the political unrest in the Middle East, but Narmi keeps the story grounded with indications of Genelli's opinions as constant reminders of the protagonist. The author's style, approaching the material as if he were writing a historical book, is retained for exposition of characters, which gives the story and its players a more credible depiction.... The bulk of the story deals with strategic maneuvering, but the combat sequences are invigorating, as SEAL Team 6 renders the enemy powerless in mere minutes. The book is split into two parts, with the operation involving Kurtz concluding at the end of Part I. Part II recaps, .... but has yet another mission as Team 6 works with the CIA's SOG (Special Operations Group) in the detainment of Iran's president, ....This mission is as remarkable and intriguing as the earlier assignment. At times excessively patriotic, but on the whole an entertaining, edifying account of the War on Terror in full swing. Kirkus Review ... edited. PRESS RELEASE: J. L. NARMI RELEASES HIS NEW NOVEL, "SEAL TEAM 6, BIN LADEN AND BEYOND" Fiction and current events intertwine in J.L. Narmi's novel "SEAL Team 6, bin Laden and Beyond" . SEAL Team 6 was a secretive military and counter-terrorism unit within the Navy SEAL Team organization until they became known as the unit responsible for taking down bin Laden. Narmi had written the body of the novel prior to SEAL Team 6's media exposure. He notes that SEAL Team 6 is a unit so secretive that the White House and Department of Defense do not recognize their existence. Narmi believes that his novel will hit home with readers because of events currently unfolding in the Middle East. "What was once thought unthinkable is now thinkable, and no action or consequence is as remote as it may have seemed just a few short months ago," says Narmi. "This is an exciting read for an audience beyond those that have an affinity for military action books," says Narmi. "The novel has an appeal for those who also have an interest in world politics and strategies because the body and flow of the book extends well beyond the military actions involved. It is a story as much about strategic political decisions and emotions as it is about military actions." About the Author: J.L. Narmi received a Bachelor of Business Administration degree from the University of Iowa and a Master of Business Administration degree from Creighton University. He is also a graduate of the Security Industry Institute at the Wharton School of Business, University of Pennsylvania. Narmi has been a speaker at various corporate events, as well as a guest lecturer for Cunard Lines, sharing lecture time with authors Irving Stone and Ken Adelman, a former President Reagan advisor.
Advertisement