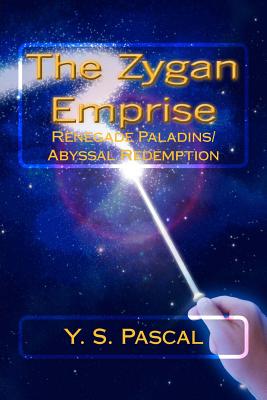 The Zygan Emprise (Paperback)
Renegade Paladins/Abyssal Redemption
Createspace Independent Publishing Platform, 9781463618629, 530pp.
Publication Date: April 11, 2012
* Individual store prices may vary.
Description
Award winning 'Where Angels Fear to Tread/Renegades' and its sequel 'Redemption' are now available together in one exciting volume Along with a bonus preview of Book 3, 'Renaissance' Renegades begins the story of Shiloh Rush, star of the sci-fi TV series Bulwark, who's leading a double life. Haunted by the mysterious disappearance of her beloved older brother, Shiloh hopes to track him down by following in his footsteps as a secret agent for the Zygan Federation, an intergalactic empire hidden from Earth. During this quest, Shiloh and her British co-star William "Spud" Escott, also a Zygan agent, fly into space--for real--to stop terrorists and invaders who could destroy the Federation and kill millions throughout the universe. Sent back in time to Earth's Ancient Middle East to save the life of young prophet Yeshua Bar Maryam and prevent Earth's destruction, Shiloh and Spud stumble on a diabolical conspiracy and barely escape with their lives. Their assignment sabotaged, Shiloh and Spud discover the villains' real mission, face powerful enemy fighters from warrior planets and traitors from their own ranks, and race against time to save Earth. In Redemption, Shiloh, desperate to save her long-lost brother from the clutches of an intergalactic terrorist and his minions, enlists Spud to travel to a desolate dimension and mount a rescue, using the Golden Fleece she has borrowed from ancient prophet Yeshua Bar Maryam. On the trail, Shiloh and Spud risk their lives in the mysterious nebula, The Plegma, and face menacing demons, vampires, guerrillas, and Valkyries as they storm the gates of Hades. Returning to Earth, they find that their actions have caused devastating changes in the path of Earth's history, and that the society and the loved ones they left behind no longer exist. Will they have to sacrifice their lives to save Earth's?
About the Author
Y.S. Pascal is an award-winning author of mystery-thrillers and feature articles, a doctor, a scientist, and the parent of three wonderful teens. Renegades (Where Angels Fear to Tread), her first book in the Zygan Emprise series won a 2010 Mensa Sharp Writ Book Award.
or
Not Currently Available for Direct Purchase