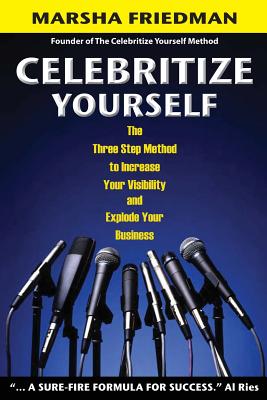 Celebritize Yourself - 1st Edition (Paperback)
The Three Step Method to Increase Your Visibility and Explode Your Business
Createspace Independent Publishing Platform, 9781463661472, 194pp.
Publication Date: August 1, 2011
* Individual store prices may vary.
Description
Acclaim for Marsha Friedman's Celebritize Yourself: The Three Step Method to Increase Your Visibility and Explode Your Business "We live in a celebrity world. To take full advantage of what that world has to offer, read Marsha Friedman's astute analysis of how to turn yourself into a celebrity. It's a sure-fire formula for success." -AL RIES, co-author, War in the Boardroom "Personal Branding is one of the hottest ideas out there. But most so-called experts don't tell you enough. In her must read book, Marsha Friedman shows you how to transform your personal brand to celebrity status and how to reap the resulting rewards. Fame and fortune anyone?" -DAVID MEERMAN SCOTT, bestselling author of Th e New Rules of Marketing & PR and the hit new book World Wide Rave.
About the Author
Marsha Friedman is a 24-year veteran of the public relations industry. She is the CEO of EMSI Public Relations (http: //www.emsincorporated.com), a national firm that provides PR strategy and publicity services to corporations, entertainers, authors and professional firms. marsha@marshafriedman.co