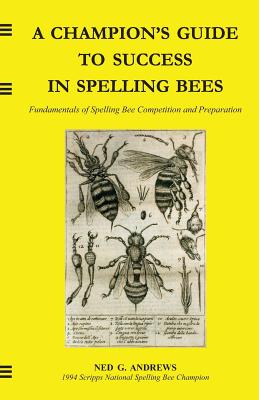 A Champion's Guide to Success in Spelling Bees: Fundamentals of Spelling Bee Competition and Preparation (Paperback)
Fundamentals of Spelling Bee Competition and Preparation
Createspace Independent Publishing Platform, 9781463689087, 122pp.
Publication Date: October 27, 2011
About the Author
NED G. ANDREWS won the 1994 Scripps National Spelling Bee, then known as the Scripps Howard National Spelling Bee. In addition to placing 15th in 1992 and 14th in 1993, he served on the SNSB's competition staff for six years. Following his win, the SNSB asked his mother and coach, Carolyn Andrews, to join its word panel and author the online study program Carolyn's Corner. After becoming word list manager and serving in that capacity for several years, she retired in 2010. Andrews holds a law degree from the University of Virginia and a bachelor's degree in philosophy from Yale University (coincidentally Noah Webster's alma mater). Following law school, he appeared on the NBC game show 1 vs. 100; throughout the show's run, his record as the longest-lasting opponent of the show's featured contestants remained unbroken. Andrews currently practices law in Virginia, where he and his wife reside with their three cats.
Advertisement