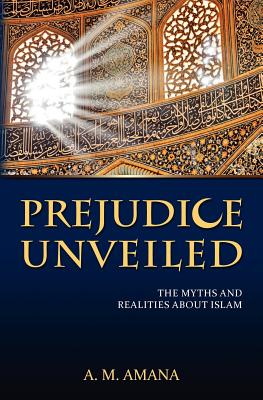 Prejudice Unveiled: The Myths and Realities about Islam (Paperback)
The Myths and Realities about Islam
Createspace Independent Publishing Platform, 9781463701123, 308pp.
Publication Date: October 14, 2011
About the Author
This book is not a white wash of Islam, and A. M. Amana is not an apologist. A. M. Amana was raised in Italy by his Egyptian diplomat father and British mother. With a master's in international relations, Amana can speak five languages and has lived in seven different countries. He completed the pilgrimage to Mecca in 2005, and currently lives in California with his wife and two children. Editorial Reviews: "Prejudice Unveiled is a timely book for our modern era. It is written with clarity, as well as passion, and answers many of the issues that have been brought forward in the realm of public debate about Islam and its status. I found this book to be a thoroughly enjoyable and refreshing read, and the author presents many excellent points that gave me pause for thought. I definitely recommend this book for those interested in dispelling current myths about Islam, as well as for those who wish to learn deeper knowledge for themselves." -Yahiya Emerick, President of the Islamic Foundation of North America, and author of several books, including The Complete Idiot's Guide to Understanding Islam and Critical Lives: Muhammad. "This unique book is exactly what is needed at this critical point in the history of Muslim and Christian relations. It will help Christians realize that there are many in Islam who are just like them, searching for a better way." -The Reverend Dr. John L. Dodson, United Methodist Church. "Amana, a well-traveled and well-spoken layman, demystifies Islam. In this passionate book, the author views Islam through non-Muslim eyes to debunk myths and to cross over racial, religious and cultural stereotypes...While he is essentially a layperson academically and religiously, Amana has clearly done his homework. Numerous authoritative, well-cited sources back up the claims he makes, and he includes a hefty reading list to encourage further study...He is a Muslim who genuinely cares about sharing the beauty of his faith with others. His enthusiasm and thoughtfulness shine through in his lucid, gentle prose...Additionally, a brief but thorough SWOT analysis (strengths, weaknesses, opportunities, threats) of Islam provides an interesting frame for both Muslims and non-Muslims to consider how all sides can address and rectify stereotypes and misunderstandings. An eye-opening, inspiring read for Muslims and non-Muslims alike." - Kirkus Indie Reviews.
Advertisement