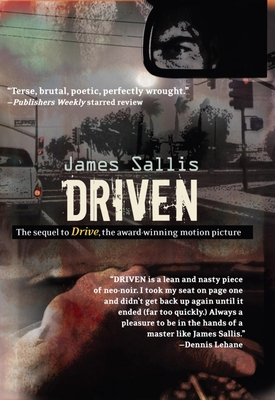 Driven (Hardcover)
Poisoned Pen Press, 9781464200106, 147pp.
Publication Date: April 3, 2012
Other Editions of This Title:
Digital Audiobook (12/31/2005)
Digital Audiobook (4/2/2012)
Paperback (4/3/2012)
Paperback (9/5/2006)
Audio Cassette (8/1/2007)
Pre-Recorded Audio Player (4/3/2012)
MP3 CD (4/3/2012)
Compact Disc (4/3/2012)
MP3 CD (8/1/2007)
Compact Disc (4/3/2012)
Compact Disc (8/1/2007)
Paperback (8/30/2011)
Audio Cassette (4/1/2012)
Paperback (9/1/2011)
Pre-Recorded Audio Player (10/1/2009)
Paperback, Large Print (9/1/2005)
Paperback (5/1/2012)
Paperback (5/1/2012)
* Individual store prices may vary.
Description
At the end of Drive, Driver has killed Bernie Rose, "the only one he ever mourned," ending his campaign against those who double-crossed him. Driven tells how that young man, done with killing, becomes the one who goes down "at 3 a.m. on a clear, cool morning in a Tijuana bar."
Seven years have passed. Driver has left the old life, become Paul West, and founded a successful business back in Phoenix. Walking down the street one day, he and his fianc'e are attacked by two men and, while Driver dispatches both, his fianc'e is killed.
Sinking back into anonymity, aided by his friend Felix, an ex-gangbanger and Desert Storm vet, Driver retreats but finds that his past stalks him and will not stop. He has to turn and face it. Because he drives. That's what he does.
About the Author
James Sallis has published fourteen novels, multiple collections of short stories, poems and essays, the definitive biography of Chester Himes, three books of musicology, and a translation of Raymond Queneau s novel "Saint Glinglin."The film of "Drive" won Best Director award at Cannes; the six Lew Griffin books are in development.Jim plays guitar, banjo, mandolin, fiddle and Dobro both solo and with the band Three-Legged Dog. "
Praise For Driven…
"Lean and lethal...The underworld characters Driver deals with have a tendency to wax philosophical. 'You think about stuff much? Why you're here, what it all means?' one of the hit men asks him. 'Not really,' Driver answers. And then he kills the guy." —New York Times

"The enigmatic loner known as Driver, introduced in 2005's Drive, takes to the road again after two thugs assault him and his fiancée on a Phoenix street in this terse, brutal, poetic, perfectly wrought sequel." —Publishers Weekly, starred review
"Sallis, perhaps the most genuinely poetic crime writer alive, bleeds tone on every page, crafting sentences that read like a Thomas Hardy lyric." —Booklist, starred review
"Coming hard on the heels of the 2011 film version of cult favorite Drive, this gritty, gristly tale will rivet Sallis's growing audience." —Library Journal
"Imagine the heart of Jim Thompson beating in the poetic chest of James Sallis and you'll have some idea of the beauty, sadness and power of "Drive"...[it] has more thought, feeling and murderous energy than books twice its length."—Chicago Tribune, praise for Drive

or
Not Currently Available for Direct Purchase