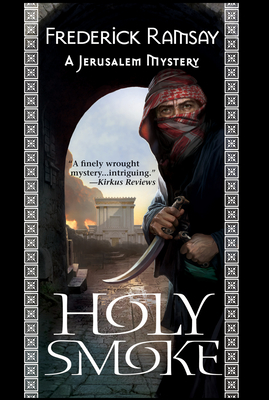 Holy Smoke (Hardcover)
Poisoned Pen Press, 9781464200908, 247pp.
Publication Date: February 5, 2013
Description
The year is 29 C.E., and Jerusalem chafes under the Roman Empire's oppressive rule. A badly scorched body is found behind the Veil of the Holy of Holies - the Temple's inner sanctum, the most sacred space on earth for the Jews. No one except the high priest may enter this place and he only on the Day of Atonement. This is no casual violation, and the authorities are in an uproar.
Gamaliel, the rabban of the Sanhedrin, is the ranking rabbi in all of Judea. Now he must solve this delicate mystery while dark agents with unholy interests plot to seize control of much of the trade in certain highly profitable imports. As the tangled web of intrigue and murder is slowly unraveled, Yeshua, the radical rabbi from Galilee, continues to annoy the high priest, and holy smoke from the sacrifices rises from the Temple.
About the Author
Dr. Frederick Ramsay was born in Baltimore, MD, graduated from Washington and Lee University and received his doctorate from the University of Illinois. After a stint in the Army, he joined the University of Maryland, School of Medicine faculty. In 1971 was ordained an Episcopal priest. He currently lives in Surprise with his wife Susan.
Advertisement