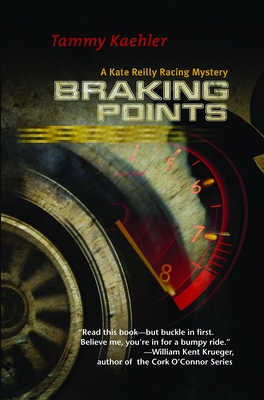 Braking Points (Kate Reilly Mysteries #2) (Hardcover)
Poisoned Pen Press, 9781464200991, 291pp.
Publication Date: April 2, 2013
Other Editions of This Title:
Digital Audiobook (4/1/2013)
Paperback (4/2/2013)
Paperback, Large Print (4/2/2013)
Compact Disc (4/2/2013)
Compact Disc (4/2/2013)
MP3 CD (4/2/2013)
* Individual store prices may vary.
Description
Kate Reilly can't remember a worse time in her life, on-track or off. She wrecks her racecar at Road America in Wisconsin, sending a visiting NASCAR star to the hospital, and loses her cool on-camera, only to end the day by discovering her boyfriend with a friend of hers. A dead friend.With little time to grieve, Kate finds herself the pariah of the racing world, the target of vicious e-mail messages, death threats, and a frenzy of blame on racing sites and blogs, including an influential, anonymous blogger who's trying to get her fired. But nothing is as bad as knowing her friend's killer is still out there--and aiming at Kate.She's riding a roller coaster of emotion, juggling an exciting new sponsor, a boyfriend she's not sure she can trust, and new-found family she doesn't want to claim. Dodging unfavorable media attention and a pit reporter with a bias against women in racing, Kate redeems herself by delivering stunning performances behind the wheel at the next race: Petit Le Mans, the ten-hour endurance classic.The championship race weekend and an undercurrent of threats on all sides rev Kate's nerves to their limits. From on-track action, to sponsor parties, to the Series awards banquet, she's part of the action, uncovering motives, secrets, and powerful ambitions. Ultimately she learns no one can escape the past--but only a murderer is driven by it.

About the Author
Tammy Kaehler's career in marketing and technical writing landed her in the world of automobile racing, which inspired her with its blend of drama, competition, and welcoming people. Her debut, Dead Man's Switch, was praised by mystery fans as well as racing insiders, and she takes readers back behind the wheel in Braking Points, the second Kate Reilly Racing Mystery. Tammy works as a technical writer in the Los Angeles area, where she lives with her husband and many cars.