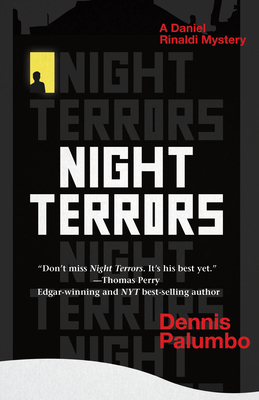 Night Terrors (Paperback)
Poisoned Pen Press, 9781464201318, 250pp.
Publication Date: May 7, 2013
Description
After twenty years spent inside the heads of the nation's worst serial killers, retired FBI profiler Lyle Barnes is falling apart mentally. Psychologist and trauma expert Daniel Rinaldi thinks he can help Barnes through his terrible night visions. Barnes, however, is also the target of an unknown assassin whose mounting list of victims paralyzes the city and lands Lyle in protective custody. When Barnes flies the coop, he draws Daniel and the joint FBI-Pittsburgh PD Task Force into a desperate manhunt. Meanwhile, a secondcase competes for Daniel's attention. The mother of a youthful confessed killer awaiting trial is convinced that her son is innocent and appeals to Daniel for help. Against his better judgment, he becomes involved, and soon suspects that much about the case is not as it appears. Daniel is faced with a number of questions. Can he and the law officials find the missing Barnes before the killer does? Will the danger closing in around him begin to affect his personal life, such as his deepening relationship with Detective Eleanor Lowrey? And are these two seemingly unconnected cases somehow linked?
About the Author
Formerly a Hollywood screenwriter," " Dennis Palumbo is now a licensed psychotherapist in private practice. He's the author ofa mystery collection, "From Crime to Crime, "and his short fiction has appeared in "Ellery Queen's Mystery Magazine, The Strand "and elsewhere."

"
Advertisement