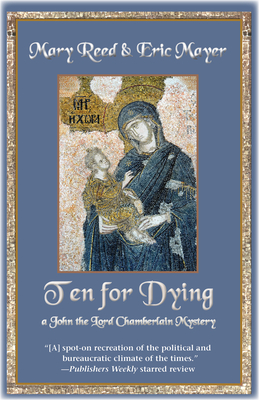 Ten for Dying (John) (Hardcover)
Poisoned Pen Press, 9781464202278, 295pp.
Publication Date: March 1, 2014
Other Editions of This Title:
Paperback, Large Print (3/1/2014)
* Individual store prices may vary.
Description
548 CE, Constantinople. Emperor Justinian, distraught from the death of his wife, Empress Theodora, has exiled his longtime aide, John, the Lord Chamberlain. At the Church of the Holy Apostles, an Egyptian magician tries to raise the empress from the dead. As the unholy ceremony explodes into chaos, supposed demons vanish into the darkness with one of the city's holiest relics. Felix, Captain of the Palace Guard, is selected as John's successor and charged with finding the missing relic.
But before Felix's investigation even begins, someone deposits a corpse at his house. A botched attempt to dispose of the body leaves Felix looking suspect. To make matters worse, it seems as if half the city wants to possess the relic, see Felix dead - or both. If only Felix's friend, the shrewd John, were still in the city, but the former Lord Chamberlain has already sailed for Greece.
Now Felix enters a fight for his very survival, a crucible in which he cannot cannot tell friend from foe - or worldly dangers from the supernatural.
About the Author
""The husband and wife team of Mary Reed and Eric Mayer co-author the award-winning John, Lord Chamberlain historical mysteries set in 6th century Byzantium. The American Library Association's Booklist Magazine named the Lord Chamberlain novels one of its Best Little Known Series and the books have received starred reviews from Booklist, Library Journal, and Publishers Weekly, most recently from the latter for Nine For the Devil, ninth in the series.""
or
Not Currently Available for Direct Purchase