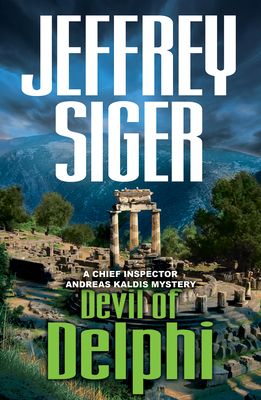 Devil of Delphi
A Chief Inspector Andreas Kaldis Mystery
Paperback

* Individual store prices may vary.
Other Editions of This Title:
Hardcover (10/6/2015)
Paperback, Large Print (10/6/2015)
Description
Delphi once stood at the center of the world, a mountainous, verdant home to the gods, where kings and warriors journeyed to hear its Oracle speak. The Oracle embodied the decree of the gods--or at least the word of Apollo. To disobey risked...everything.
Young Athenian Kharon chooses modern Delphi to rebuild his life among its rolling hills and endless olive groves. But his dark past is too celebrated, and his assassin's skills so in demand, that his fate does not rest entirely in his own hands. Greece is being flooded with bomba, counterfeits of the most celebrated alcoholic beverages and wine brands. The legitimate annual trillion-dollar world market is in peril. So, too, are consumers--someone is not just counterfeiting booze, but adulterating it, often with poisonous substances. Who is masterminding this immensely lucrative conspiracy?
Kharon learns who when the ruthless criminal gives him no choice but to serve her. Her decrees are as absolute as the Oracle's, and as fearsomely punished. Kharon agrees, but dictates his own payoff. And his own methods, which allow his targets some choice in the outcomes.
When Kharon unexpectedly shoots a member of one of Greece's richest, most feared families, he draws Chief Inspector Andreas Kaldis into the eye of a political and media firestorm threatening to bring down Greece's government. Think Breaking Bad, Greek-style.
Poisoned Pen Press, 9781464204326, 276pp.
Publication Date: October 6, 2015
About the Author
Jeffrey Siger was born and raised in Pittsburgh, Pennsylvania, practiced law at a major Wall Street law firm, and later established his own New York City law firm where he continued as one of its name partners until giving it all up to write full-time among the people, life, and politics of his beloved Mykonos. The Mykonos Mob is the tenth novel in his internationally best-selling and award nominated Chief Inspector Andreas Kaldis series, following up on An Aegean April, Santorini Caesars, Devil in Delphi, Sons of Sparta, Mykonos After Midnight, Target: Tinos, Prey on Patmos, Assassins of Athens, and Murder in Mykonos.The New York Times described Jeffrey Siger's novels as "thoughtful police procedurals set in picturesque but not untroubled Greek locales," and named him as Greece's thriller writer of record. The Greek Press called his work "prophetic," Eurocrime described him as a "very gifted American author...on a par with other American authors such as Joseph Wambaugh or Ed McBain," and the City of San Francisco awarded him its Certificate of Honor citing that his "acclaimed books have not only explored modern Greek society and its ancient roots but have inspired political change in Greece." He now lives in Greece.
or
Not Currently Available for Direct Purchase