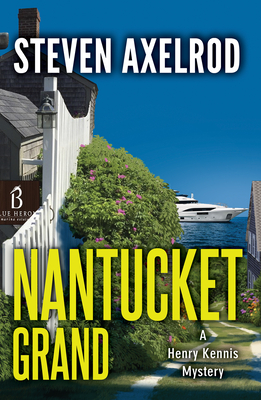 Nantucket Grand (Henry Kennis Mysteries #3) (Paperback)
Poisoned Pen Press, 9781464205552, 354pp.
Publication Date: May 3, 2016
Other Editions of This Title:
Paperback, Large Print (5/3/2016)
Hardcover (5/3/2016)
* Individual store prices may vary.
Description
"Axelrod packs plenty of layers and surprises into this intelligent, twisty tale. Henry's wry humor as well as his affection for the residents he serves exude warmth and will appeal to fans of Bill Crider's Sheriff Dan Rhodes." --Booklist
During a long winter and short, chilly spring, a series of disturbing incidents rock the small resort island of Nantucket. A Land Bank executive dies in a suspicious hunting accident, a prominent local family's historic summer cottage burns down in an arson fire, and a teenage girl lies comatose in the hospital from a drug overdose.
When spring turns to summer and the tourists flood the island, the mysterious cycle of violence spins faster. A young Jamaican boy is found dead in the harbor, a sex-for-drugs pornography ring is exposed, and a beloved local hero is murdered in cold blood. Could all of these events be part of the same sinister conspiracy?
Poetry-writing Police Chief Henry Kennis, back for his third case in Nantucket Grand by Steven Axelrod, doubts it. But his new girlfriend, Jane Stiles, an author of cozy mysteries, is certain that all these terrible events are connected. In one of her books, they would all be related. Henry scoffs, but as the cords pull tighter, drawing him into a scandal that would change Nantucket forever, he begins to realize that Jane might be right, after all. But is it already too late?