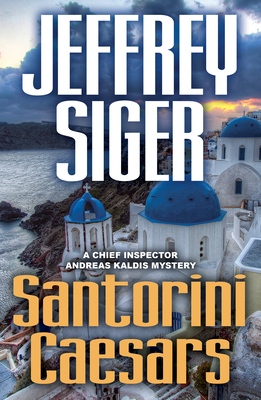 Santorini Caesars (Chief Inspector Andreas Kaldis #8)
Paperback

* Individual store prices may vary.
Other Editions of This Title:
Hardcover (9/20/2016)
Paperback, Large Print (9/6/2016)
Description
This is a] novel that's both a rock-solid mystery and comments incisively about so many issues besetting Europe and the world today. --Huffington Post
When a young demonstrator is publicly singled out and assassinated by highly trained killers in the heart of protest-charged Athens, Chief Inspector Andreas Kaldis is convinced the killing was meant not to take out a target, but as a message. A message from whom? To whom? And why?
Kaldis' search for answers leads him and his team to the breathtakingly beautiful island of Santorini, heralded in legend as the lost island of Atlantis, and to eavesdrop on a hush-hush gathering of Greece's top military leaders looking to come up with their own response to the overwhelming crises and uncertainties their country faces.
Is it a coup d' tat, or something else? Greece is no stranger to violence upending duly elected governments and memories of the nation's last junta dictatorship years still burn in the minds of all who lived through the Regime of the Colonels. The answer is by no means clear, but as suspects emerge and international intrigues evolve, the threat of another, far more dramatic assassination grows ever more likely--as does the realization that only Kaldis can stop it.
But at what price? Greece's government is in chaos, its goals and leadership are suspect, and Kaldis is forever at odds with its methods. Life is not the same, nor is it likely to return to better days any time soon. With a new child on the way, and their young son coming face-to-face with the harsh nature of the world around him, Kaldis and his wife wonder if carrying on the fight matters anymore.
It is a time for testing character, commitment, and the common good. And for saving the nation from chaos.
Poisoned Pen Press, 9781464206030, 304pp.
Publication Date: September 6, 2016
About the Author
Jeffrey Siger was born and raised in Pittsburgh, Pennsylvania, practiced law at a major Wall Street law firm, and later established his own New York City law firm where he continued as one of its name partners until giving it all up to write full-time among the people, life, and politics of his beloved Mykonos. The Mykonos Mob is the tenth novel in his internationally best-selling and award nominated Chief Inspector Andreas Kaldis series, following up on An Aegean April, Santorini Caesars, Devil in Delphi, Sons of Sparta, Mykonos After Midnight, Target: Tinos, Prey on Patmos, Assassins of Athens, and Murder in Mykonos.The New York Times described Jeffrey Siger's novels as thoughtful police procedurals set in picturesque but not untroubled Greek locales, and named him as Greece's thriller writer of record. The Greek Press called his work prophetic, Eurocrime described him as a very gifted American author...on a par with other American authors such as Joseph Wambaugh or Ed McBain, and the City of San Francisco awarded him its Certificate of Honor citing that his acclaimed books have not only explored modern Greek society and its ancient roots but have inspired political change in Greece. He now lives in Greece.
or
Not Currently Available for Direct Purchase