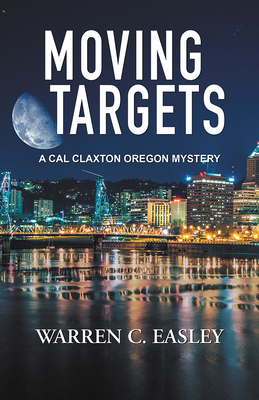 Moving Targets (Cal Claxton Oregon Mysteries #6)
Paperback

* Individual store prices may vary.
Other Editions of This Title:
Hardcover (9/4/2018)
Paperback, Large Print (9/4/2018)
Description
"With Moving Targets, Warren Easley delivers another humdinger of a tale featuring the City of Roses. But there's so much more to like about this story than just its evocative Portland setting. Cal Claxton is a guy worth rooting for, and the gang who aid him in solving the complex and dangerous mystery involved are a fun bunch to follow. If you're not familiar with these gems out of Oregon, now's the perfect time to give Warren Easely and Cal Claxton a try. You won't be disappointed." --William Kent Krueger, award-winning, bestselling author of Ordinary Grace and the Cork O'Connor series
When a young woman walks into Caffeine Central, Cal Claxton's law office in downtown Portland, he has no idea that agreeing to help her will turn his life upside down. His new client is the adopted daughter - "I'm brown and they're white" - of a Portland power couple famed for their real estate development firm and charitable work.
Sculptor Angela Wingate, once a wild child, and her recently widowed mother, Margaret, had grown close after years of estrangement. A grieving Angela is hesitant but nonetheless determined to learn if Margaret's recent death was a hit-and-run while out on her morning jog in her ritzy neighborhood, or something more - like murder. Angela is frustrated at the lagging police investigation and by her growing sense of something sinister at work.
As the ever-curious Cal begins to poke the principal players at Wingate Properties and to question Margaret's will, links surface between a lucrative riverfront project and a ruthless Russian ring. With a possible deadly foreign assassin in play, the threat level rises and the body count starts to grow.
Decidedly outgunned, Cal enlists his Cuban friend Nando, an enterprising investigator with an on-call hacker, and a bouncer at a strip club who knows the Russian underworld. And Cal gradually develops other allies - a skeptical police captain and a city councilwoman who opposes the massive riverfront project. In a separate battle, he recruits neighbors and officials who may help him kill the reboot of a quarry operation that threatens his beloved farmhouse home in rural Dundee, a loss that would also be tragic for his beloved dog, Archie.
Beneath this story run the narratives of several strong women connected to Cal who are learning just how powerful they can be as they change up their lives.
Poisoned Pen Press, 9781464210150, 320pp.
Publication Date: September 4, 2018
About the Author
Formerly a research scientist and international business executive, Warren C. Easley lives in Oregon where he writes fiction, tutors GED students, fly fishes and skis. Easley is the author of the Cal Claxton Oregon Mysteries. He received a Kay Snow National Award for fiction in 2012 and was named the Northwest's Up and Coming Author in 2017, both honors bestowed by Willamette Writers.