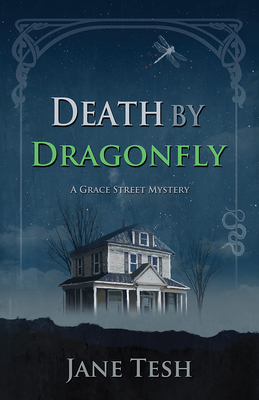 Death by Dragonfly (Grace Street Mysteries #6) (Hardcover)
Poisoned Pen Press, 9781464211126
Publication Date: December 18, 2018
Other Editions of This Title:
Paperback, Large Print (12/18/2018)
Paperback (12/18/2018)
* Individual store prices may vary.
Description
"The mystery plot is convincing and motives abound, but the vivid characters are the main draw, in particular the wryly observant Randall, who narrates the story with verve. Fans of cozies with a paranormal twist will be rewarded." --Publishers Weekly
Flamboyant actor Leo Pierson's Art Nouveau treasures have been stolen, including a one-of-a-kind Lalique glass dragonfly he claims is cursed. David Randall, 302 Grace Street's private eye, agrees to recover the valuables before he realizes murder has raised its ugly head in the Parkland art community. Samuel Gallant of the museum board is missing, until Randall and his landlord/consultant Camden find Gallant's body stuffed in a museum closet. When another board member suffers a fatal accident and the art critic for the Parkland Herald is attacked, Randall suspects the stolen dragonfly is indeed cursed. He investigates Richard Mason, curator of the Little Gallery, whose artwork consists of ugly mechanical sculptures, and Nancy Piper, finance manager at the Parkland Art Museum.
Meanwhile, Camden struggles against psychic visions he's had since birth, taking pills to limit sudden intense visions. His wife, Ellin, fends off Matt Grabber, a television celebrity healer threatening to take over her Psychic Service Network and using his two large pythons to emphasize his bid. The pythons take a liking to Camden, upping his stress level, while he takes more pills hoping his visions--and the snakes--disappear. Kit, a new tenant at Grace Street, is a young rock star who is also psychic. As Camden becomes more addicted, Kit becomes an early warning system, alerting Randall to the next attack.
Randall works to solve the murders, find the jeweled collection, help Cam, deter Grabber and his pythons, romance the young lovely Kary, and avoid stray curses. A spirit on the Other Side surprisingly requests his help, a spirit with ties to the stolen pieces of Art Nouveau.
About the Author
Jane Tesh is a retired media specialist and pianist for the Andy Griffith Playhouse in Mt. Airy, North Carolina. She is the author of the popular Madeline Maclin Mysteries and the Grace Street Mysteries.
or
Not Currently Available for Direct Purchase