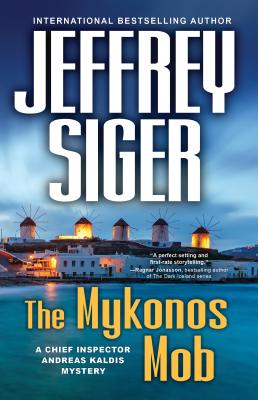 The Mykonos Mob (Chief Inspector Andreas Kaldis Mysteries #10) (Hardcover)
Poisoned Pen Press, 9781464211478
Publication Date: April 2, 2019
* Individual store prices may vary.
Description
"Target: Tinos is] another of Jeffrey Siger's thoughtful police procedurals set in picturesque but not untroubled Greek locales." --New York Times
"A perfect setting and first-rate storytelling." --Ragnar J nasson, bestselling author of The Dark Iceland series
The Mykonos Mob reveals the wildly lucrative dark side of an internationally renowned Greek island playground for the world's rich and famous, those battling for control of its vices, and the innocents affected by it all.
The case begins for Athens' Chief Inspector Andreas Kaldis with a literal bang--a corrupt former police colonel who runs a protection racket on Mykonos is gunned down. And Kaldis is suddenly face to face with Greece's top crime bosses, all just as surprised and baffled as he is at the assassination. Who is making a move--if a move it is--and what else might it be?--to take over the island's vice operations. Maybe legitimate businesses too?
One of the Aegean's Cyclades islands, Mykonos was poor until a few decades ago, but today is a renowned 24/7 summer hot spot filled with tourists who enjoy its beaches and iconic landmarks by day and party in its bars and massive dance clubs by night. As an international playground and cruise port, Mykonos is just begging for more exploitation--and not just by the Greeks.
While Andreas and his Special Crimes unit wrestle for answers, his wife Lila is similarly engaged but her focus is what meaningful role beyond wife and mother will she fill? Daughter of a wealthy family, it isn't about money. Her quest takes her to her parents' home on Mykonos where she meets Toni, an American ex-pat, a fixer and finder of stolen goods, playing piano in a gender-bending bar with a zest for life and no apparent regard for rules. How does what Lila and Toni discover together about themselves--and how they mentor young island girls trapped in an exploitative and patriarchal culture--intersect with Andreas' investigation?
Dangerously...
About the Author
Jeffrey Siger was born and raised in Pittsburgh, Pennsylvania, practiced law at a major Wall Street law firm, and later established his own New York City law firm where he continued as one of its name partners until giving it all up to write full-time among the people, life, and politics of his beloved Mykonos. The Mykonos Mob is the tenth novel in his internationally best-selling and award nominated Chief Inspector Andreas Kaldis series, following up on An Aegean April, Santorini Caesars, Devil in Delphi, Sons of Sparta, Mykonos After Midnight, Target: Tinos, Prey on Patmos, Assassins of Athens, and Murder in Mykonos.The New York Times described Jeffrey Sigeris novels as "thoughtful police procedurals set in picturesque but not untroubled Greek locales," and named him as Greece's thriller writer of record. The Greek Press called his work "prophetic," Eurocrime described him as a "very gifted American author...on a par with other American authors such as Joseph Wambaugh or Ed McBain," and the City of San Francisco awarded him its Certificate of Honor citing that his "acclaimed books have not only explored modern Greek society and its ancient roots but have inspired political change in Greece." He now lives in Greece.