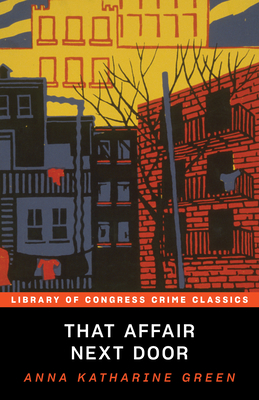 That Affair Next Door (Paperback)
Poisoned Pen Press, 9781464212956, 384pp.
Publication Date: April 7, 2020
Other Editions of This Title:
Paperback (4/2/2012)
Paperback (8/17/2018)
Paperback (5/11/2018)
Paperback (12/31/2010)
Paperback (3/11/2010)
Paperback (2/24/2012)
Paperback (12/14/2012)
Paperback (5/29/2008)
Paperback (12/6/2019)
Paperback (11/9/2019)
Paperback (1/31/2019)
Paperback (1/6/2020)
Paperback (4/6/2019)
Paperback (10/19/2018)
Paperback (11/7/2003)
Paperback (7/13/2019)
Hardcover (8/18/2008)
Paperback, Large Print (1/11/2008)
Hardcover, Large Print (8/18/2008)
* Individual store prices may vary.
Description
"This inaugural volume in the Library of Congress Crime Classics series, featuring the first woman sleuth in a series, is a must for genre buffs." --Publishers Weekly (Starred Review)
The first book in an exciting new classic mystery series created in partnership with the Library of Congress, That Affair Next Door follows Miss Amelia Butterworth, an inquisitive single woman who becomes involved in a murder investigation after the woman next door turns up dead.
Miss Amelia Butterworth prides herself on being an observer of human nature, especially of the people she sees every day from her usual spot at her front window--that is, until she witnesses the prelude to a ghastly murder. Late at night, two people enter her neighbor's home, but only one leaves. The next morning a young woman is found dead, crushed beyond recognition beneath a cabinet. But her death was no accident--it soon comes to light that she was stabbed by a seemingly innocuous item: a hat pin.
Rife with social tension and mistaken identity, the messy case is assigned to veteran Detective Ebenezer Gryce. He expects Miss Butterworth to demurely return home, but she was there at the beginning of this case and she intends to see it through to the end. Miss Butterworth is determined to solve the mystery before the detective, but what begins as a battle of the sexes soon turns into a fight for the ever-elusive truth.
Anna Katharine Green is credited as the "mother of the detective novel," and the classic That Affair Next Door proves that the intrigue of a well-crafted mystery is timeless.